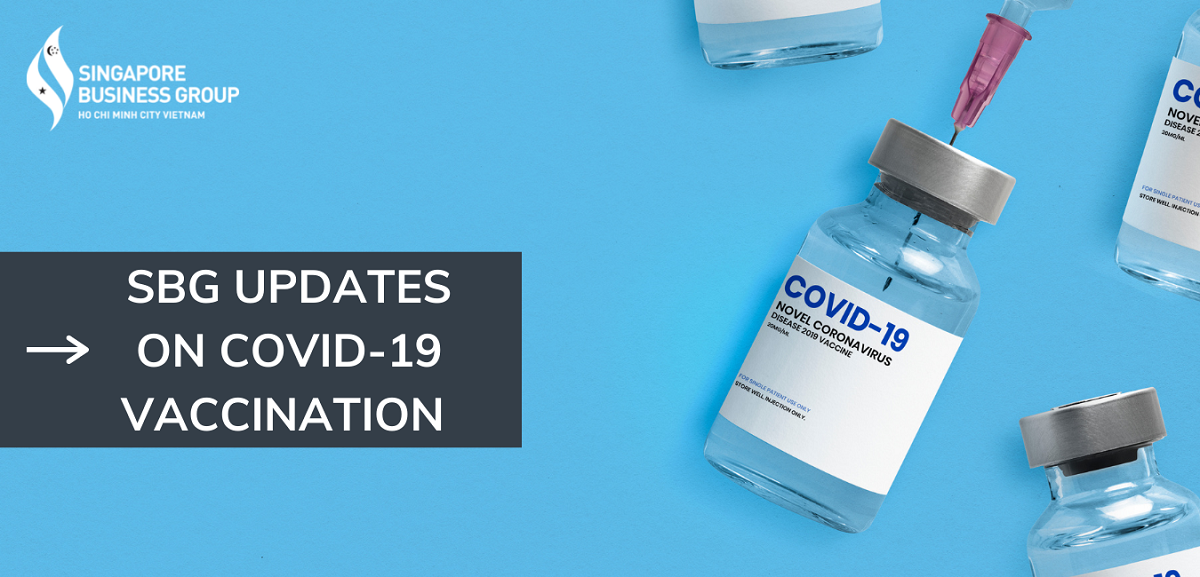 Dear SBG Members and Partners,
The 4th COVID-19 wave is fast affecting Vietnam and we are devoted to searching for more vaccine supplies in support of our host country.
In this regard, Singapore Business Group (SBG) in Ho Chi Minh City (HCMC) is striving for ways to source vaccines for Singaporean and other foreign communities. We have collaborated with other Asian Business Chambers/ Associations to submit a joint official letter dated 21st June 2021 to the Prime Minister Office and the Ministry of Health (MOH) of Vietnam. This letter highlighted the chambers' assistance in sourcing and procurement of approved vaccines for our respective members and the local community along with a request for a meeting with the government regarding the vaccination program.
On 6th July 2021, Mr. Seck Yee Chung – SBG Vice President, representing the Singapore business community, attended a virtual meeting between the leadership of Ho Chi Minh City together with foreign missions and business chambers, in order to discuss potentials for collaboration in response to the Covid-19 Pandemic.
Conclusions derived from the meeting indicated that there is no distinction in access to vaccines between foreign and Vietnamese nationalities. There will be also no discrimination against vaccinations for foreigners and foreign-invested enterprise (FIE). Localities can expand the priority groups in vaccination programs. The approach is based on the priority group and the type of vaccinations available in the city. Furthermore, all the factory workers in IPs, EPEs, HTPs are prioritised to be vaccinated. The Government has a target to vaccinate 70% of Vietnam's population by end-2021 and HCMC's municipal government is permitted to be proactive in sourcing vaccination supplies.
In regard to this meeting, the MOH is contemplating shortening the quarantine period for vaccinated persons, including those living in the city, to 7 days centralized quarantine + 7 days self-isolation at home. HCMC will apply immediately if the new MOH guideline is released.
In addition, the leadership of HCMC encouraged people to use self-testing kits. Numerous kits were purchased, however, they are insufficient in comparison to the population. Moreover, HCMC currently has 1.6 million workers, which means a large number of testing kits on a regular basis is required. Therefore, the leaders of HCMC need assistance for this matter.
We have also received urgent appeals from Singaporeans and PRs residing in Vietnam for support on vaccination which were also brought up in the virtual town hall with our Singapore Ambassador to Vietnam His Excellency Mr Jaya Ratnam on 2nd July 2021. We are working together with the Singapore Consulate of Ho Chi Minh City for further follow-up. Any future developments will be updated soonest.
As of 9th July 2021, Vietnam has administered a total of 4,010,786 doses of Covid-19 vaccine, of which 258,274 people received two full doses (Source: VN Express). A national vaccination campaign had just been announced and pending major supplies of vaccines to be delivered to Vietnam during second half 2021 and early 2022.
Edited by Jeffery Lee, SBG Honorary Secretary