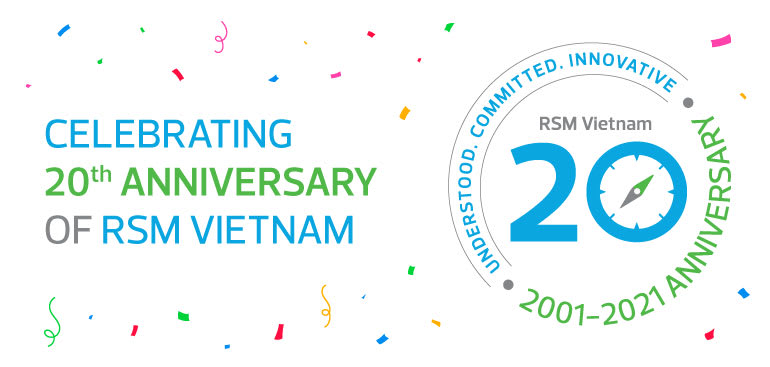 RSM Vietnam, one of the leading accounting and advisory firms in Vietnam, is proudly celebrating its 20 years in business.
RSM Vietnam and its 20-year journey
In early 21st century, Vietnam's international economic integration was accelerated, also the market economy was applied.
With the accession to World Trade Organization (WTO) in 2007, Vietnam had a great chance to work with the leading markets and anchored the domestic reforms on strong external commitments. This is important as further trade liberalization and world integration helped Vietnam to narrow down the gap between those operating in the most dynamic exporting sectors and those operating in the rest of the economy. Also, the geographic concentration of foreign direct investment (FDI) was reinforced by this accession.
At that time, in the economic context of boosting investment and development with many changes in regulations and policies, RSM Vietnam, formerly DTL, was founded in July 2001 by the group of the certified public auditors (CPAs) and accredited consultants, who had worked in the field of the auditing and consulting since the very first days of this industry in Vietnam. With these advantages, RSM Vietnam has possessed the valuable manpower resources to confidently provide professional services requiring full understanding of Vietnam business climate and with international quality standards.
Since its establishment in July 2001, the firm has constantly improved and expanded its business as well as enhanced its expertise and service quality to meet the high demands of corporate clients. In 2008, RSM Vietnam opened its second office in Hanoi. In the short time, Hanoi office has made impressive growth not only in the capital but also in the Northern region market, which brought great contributions to the success and development of RSM Vietnam.
RSM Vietnam has become an official member of RSM network since 2012. RMS network is ranked among the top 6 of the global accounting networks with its network firms in 120 countries, in 820 offices worldwide and having more than 48,000 staff including 3,750 Partners around the world.
In 2021, RSM Vietnam implemented its strategic growth plan with another office in Danang with confidence and ambition of tapping into Central region market and contributing to local economic development. Three offices with more than 400 professional specialists nationally have marked RSM Vietnam's 20-year journey of growth and development of leveraging global network and local experience, strengthen its position as well as committing to accompany and support mid-tier businesses to grow and achieve goals through audit, tax, advisory and outsourcing services.
Commitment of experiencing the message "The Power of Being Understood"
With the firm's lifelong purpose of delivering the message of "The Power of Being Understood" to its clients, colleagues and communities, for 20 years in business, RSM Vietnam has constantly built strong relationship with its corporate clients based on deep collaboration, understanding, ideas and insights into what matters most to the businesses.
The firm's expertise and service quality have been recognized by both national and regional business communities through several awards. The most recently, RSM Vietnam was awarded as the Outstanding Advisory Firm at Vietnam M&A Forum 2019 and 2020 and was nominated as the Vietnam Transfer Pricing Firm of the Year and the Asia Tax Compliance and Reporting Firm of the Year at ITR Asia Tax Awards 2020.
Ambition to an accelerated growth
"The past year has been difficult with many challenges but also provided RSM Vietnam with new opportunities to develop its operation", said Mr Dang Xuan Canh, Managing Partner of RSM Vietnam.
In spite of having impacts by the pandemic, RSM Vietnam had achieved its revenue of about VND 160 billion and remained the 8th rank of audit firms in Vietnam in 2020. It is remarkable to observe RSM Vietnam's accumulative revenue for 20 years reached over VND 1,000 billion up to the year 2020.
"Vietnam has been an attractive investment destination for many countries recently", said Mr Le Khanh Lam, Chairman of RSM Vietnam, "With our business expansion and digital transformation strategy, we see this is as an opportunity to thrive and revive the market".
With the opening of Danang office in the second quarter of this year, RSM Vietnam once again shows its burning ambition to expand its business and accelerate growth by applying digital transformation practices as well as leveraging the firm's global network and local professional service experience.