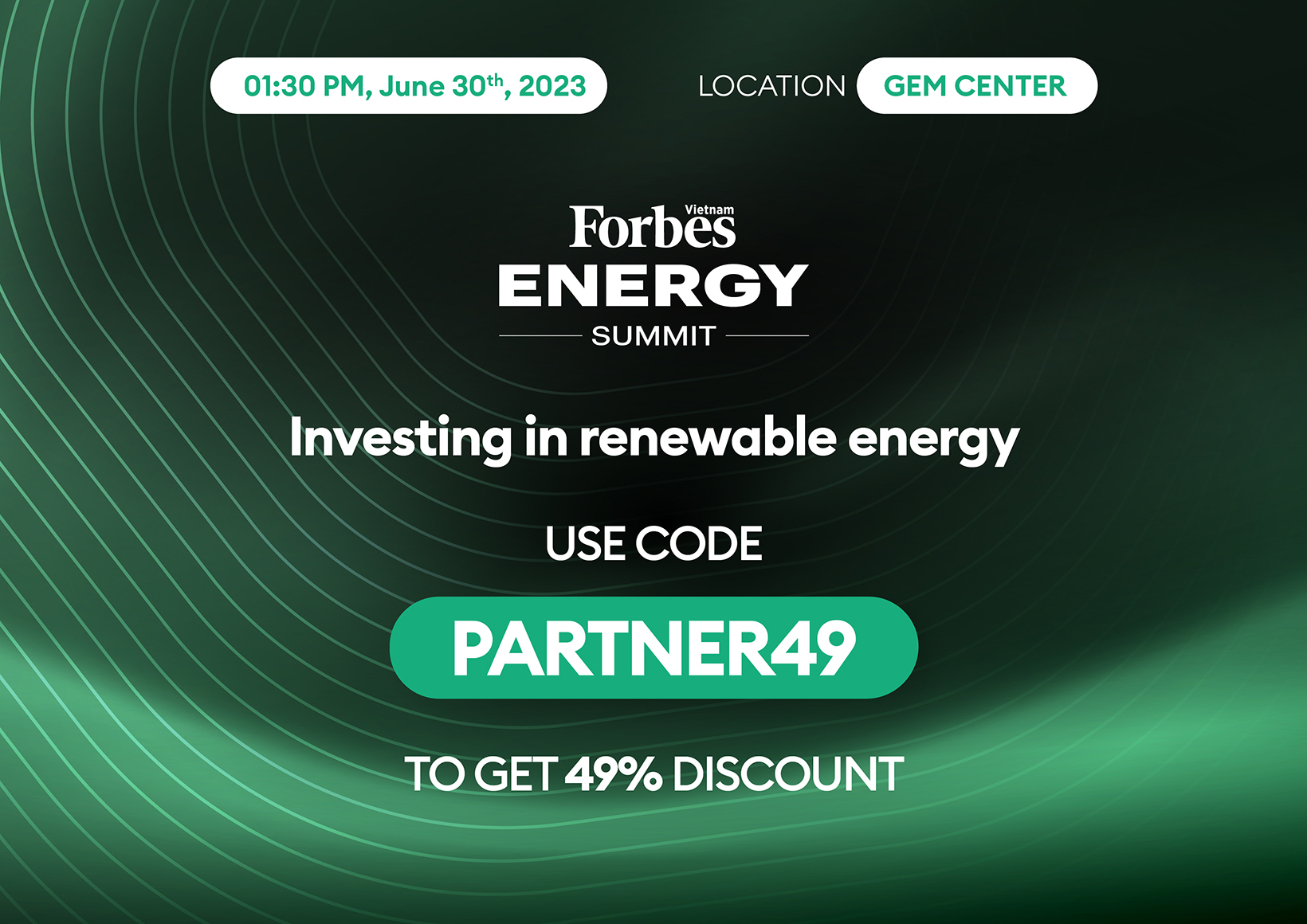 Overview:
Vietnam has accomplished immense and historic achievements economically, yet climate change has challenged it to sustain the development goals. At COP26, the Government announced its commitment to reach net zero by 2050. One of the pillars of the action program is to develop green energy, along with economic growth targets, and sustainability.
In the middle of May 2023, the Government approved the long – awaited Eighth National Power Development Plan (PDP-8), in which renewable energy, such as wind power, are poised to be prioritized. The new development space of the energy sector in Vietnam has opened investment opportunities for both local and foreign investors.
To update the business and investor community on the recent movements in the energy industry, taking part in the energy transition, promoting development sustainability and connecting stakeholders and investors, Forbes Vietnam hosts a conference under the theme "Investing in Renewable Energy". This event gathers government officials, leading experts, investors and other stakeholders to exchange perspectives on opportunities and challenges, as well as their practical experience investing in energy in Vietnam.
Renewable Energy Summit is organized to provide:
The new vision
An Official from the Ministry of Industry and Trade will highlight key changes in PDP-8 that align with Vietnam's capacity and global trends in green, circular, and low carbon economies for sustainable development.
Renewable energy gold rush
Besides the advantages of wind and solar radiation, Vietnam is an agricultural country with big potential for biomass power. The Summit will feature an expert highlighting the country's renewable energy prospects, opportunities, and challenges.
Pioneer investors' lessons
After the heated development time, some projects of wind power and solar power have faced challenges in connecting to the national grid. The most active investors will share their practical experiences when investing and operating in renewable energy.
International capital flow
International capital and green credit play a crucial role in Vietnam's green energy transition alongside private capital. International investors and green financing institutions will talk about their interests and investments in renewable energy.
Agenda:
13h30 – 14h00: Welcoming
14h00 – 14h10: Opening remarks
14h10 – 14h50: Keynote 1: The new vision
14h50 – 15h30: Keynote speech 2: In the gold rush of renewable energy
15h30 – 15h45: Tea Break
15h45 – 16h30: Panel discussion 1: The lessons learnt from the pioneer investors
16h30 – 17h15: Panel discussion 2: The flow of international capital
17h15 – 18h00: Closing & Networking
Event details:
Date: Jun, 30.2023
Time: 01:30 PM – 06:00 PM
Location: Gem Centre, 08 Nguyen Binh Khiem Street, District 1, Ho Chi Minh City
SCCV Members: Use code PARTNER49 for a 49% discount (apply for the standard ticket)
Please click here for more information of the event, speakers and agenda as well as Group Tickets.