In June – The month of celebrating family love, CarePlus offers a special promotion to accompany customers on the journey of comprehensive health care for the family: 20% off adult check-up package, win a stay at Salinda Resort Phu Quoc.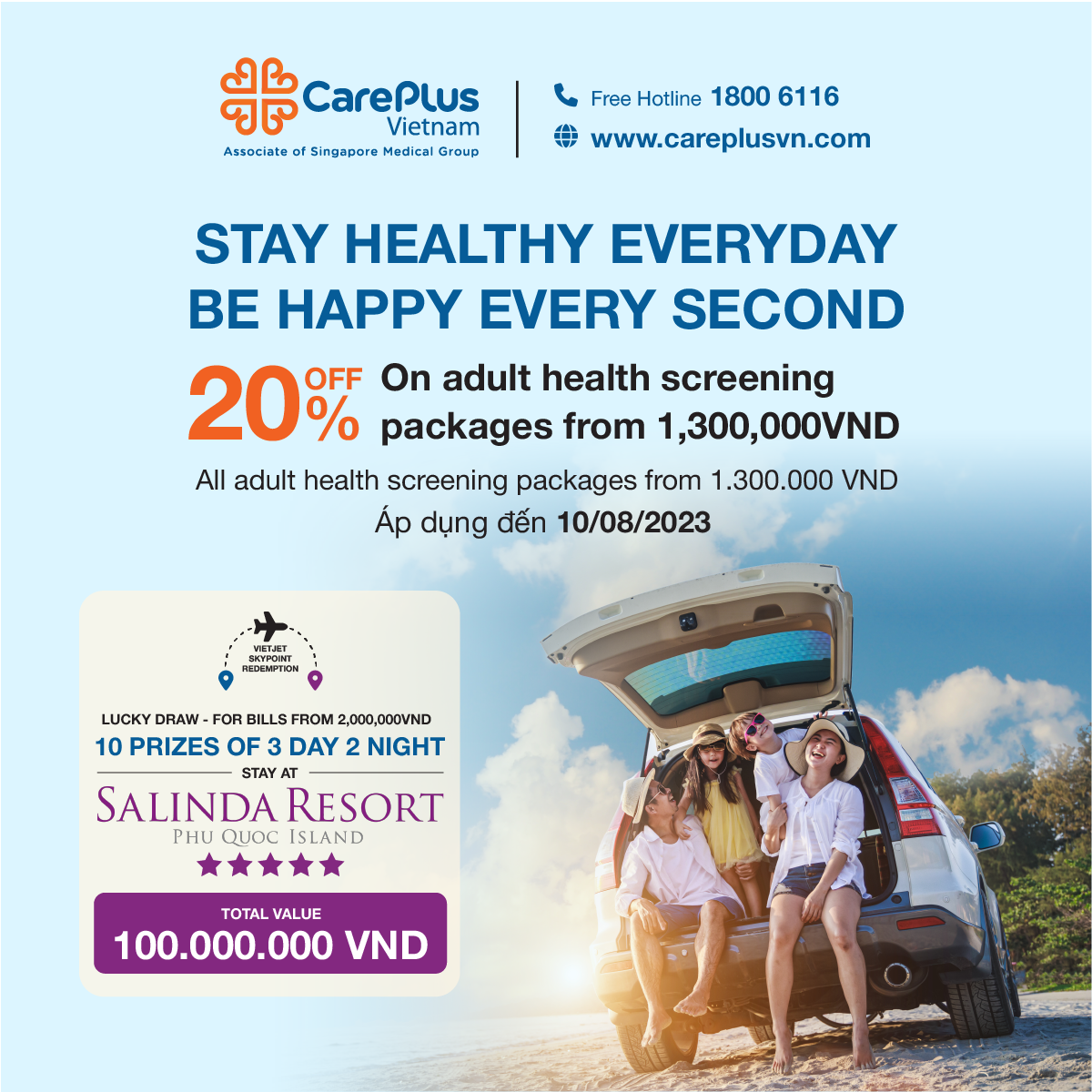 Health is the "universal" key to open the door to a bright future, a necessary condition for modern families to maintain a happy and lasting life. 
Don't miss this opportunity to have regular health screenings, helping to detect early potential diseases to plan prevention and treatment: 
𝟐𝟎% 𝐎𝐅𝐅 𝐎𝐍 𝐇𝐄𝐀𝐋𝐓𝐇 𝐂𝐇𝐄𝐂𝐊 𝐏𝐀𝐂𝐊𝐀𝐆𝐄𝐒 𝐅𝐎𝐑 𝐀𝐃𝐔𝐋𝐓𝐒: Applicable for all adult health check packages from 1,300,000 (before any discount) – Valid from: 10/06/2023 – 10/08/2023 
Please refer to the full range of CarePlus preferential treatment packages at here: Health Screening (careplusvn.com) 
𝐋𝐔𝐂𝐊𝐘 𝐃𝐑𝐀𝐖 𝐓𝐎 𝐖𝐈𝐍 𝐀 𝟑 𝐃𝐀𝐘 𝟐 𝐍𝐈𝐆𝐇𝐓 𝐒𝐓𝐀𝐘 𝐀𝐓 𝐒𝐀𝐋𝐈𝐍𝐃𝐀 𝐑𝐄𝐒𝐎𝐑𝐓 𝐏𝐇𝐔 𝐐𝐔𝐎𝐂 
𝟵 𝗚𝗢𝗟𝗗 𝗣𝗥𝗜𝗭𝗘𝗦: For any bills including a health screening package before discount from 2,000,000VND to have a chance to win as follows:  
03 prizes: 3-day 2-night stay at Deluxe Sea view room for 2 adults; 20,000 Vietjet SkyPoints/prize  
06 prizes: 3-day 2-night stay at Deluxe Garden view room; 10,000 Vietjet SkyPoints/prize 
𝟭 𝗦𝗣𝗘𝗖𝗜𝗔𝗟 𝗣𝗥𝗜𝗭𝗘: Applies to customers who buy any health screening package, or a health screening package and services worth over 6,000,000 VND (before promotion).  
Worth a 20,000,000 VND resort stay and 50,000 SkyPoints.  
Resort benefits: For 2 adults and 2 children under 12 years old. Deluxe room with sea view. Breakfast and wine. Airport shuttle. 
—————————- 
CAREPLUS INTERNATIONAL CLINIC SYSTEM 
Member of Singapore Medical Group 
Website: www.careplusvn.com/ – Free Hotline: 1800 6116