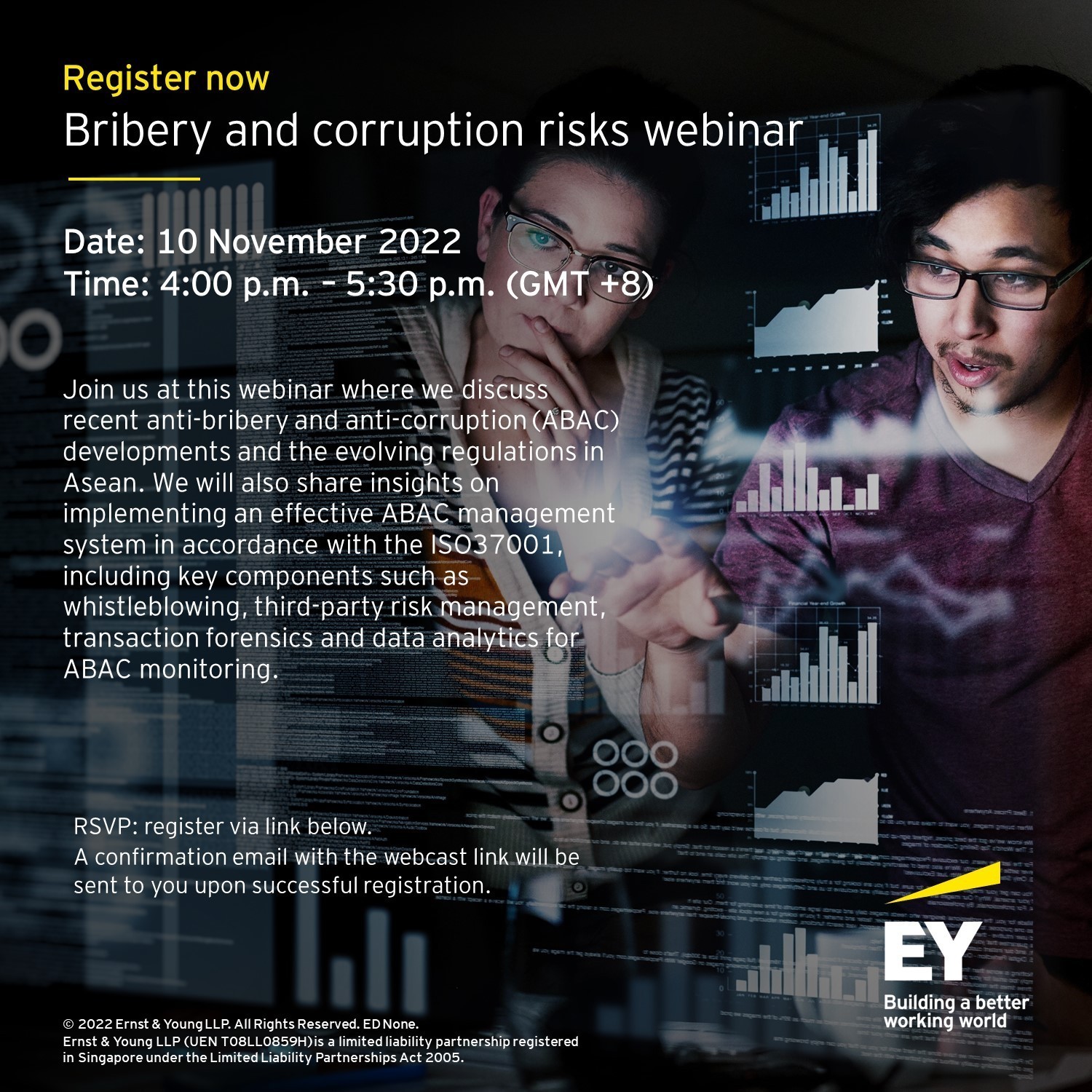 At the same time, government agencies across the world, such as the US Department of Justice (DOJ), the Securities and Exchange Commission, and the UK Serious Fraud Office (SFO) as well as regional and local authorities, remain highly active and have recently sanctioned various organizations with record high penalties for paying bribes to government officials to win or retain business, including several cases in Asean.
Stricter enforcement globally and across Asean not only results in significant monetary penalties and reputational damage for the affected organizations but also potentially criminal liabilities for the companies' officers, directors, employees and agents. As a result, bribery and corruption continue to be key compliance risks for management.
In this webinar, speakers from EY Forensic & Integrity Services and EY Law practices will discuss recent anti-bribery and anti-corruption (ABAC) developments and the evolving regulations. They will also share insights on implementing an effective ABAC management system in accordance with the ISO37001, including key components such as whistleblowing, third-party risk management, transaction forensics, and data analytics for ABAC monitoring.
Speakers and panelists
Ramesh Moosa
EY Asean and Singapore Forensic & Integrity Services Leader
Philipp Kloeber
Associate Director
Forensic & Integrity Services
Ernst & Young Advisory
Pte. Ltd.
Panelists
Partners from EY Forensic & Integrity Services teams in Asean will share local insights and perspectives during the panel discussion.
Stevanus A. Sianturi, Partner, PT Ernst & Young Indonesia
Joyce Lim, Partner, Ernst & Young Consulting Sdn. Bhd.
Brian Wong, Partner, Ernst & Young Consulting Sdn. Bhd.
Roderick M. Vega, Partner, SGV & Co
Stacy Chai, Partner, Ernst & Young Advisory Pte. Ltd.
Martin Tupila, Partner, Ernst & Young Advisory Pte. Ltd.
Hiranthi Fonseka, Partner, Ernst & Young LLP
Wilaiporn Ittiwiroon, Partner, EY Corporate Services Ltd.
Saman Wijaya Bandara, Partner, Ernst & Young Vietnam Ltd
Event details
Date: 10th November 2022 (Thursday)
Time: 4:00 p.m. to 5:30 p.m. (GMT +8)
Inquiries
For inquiries, please contact Rachel Low