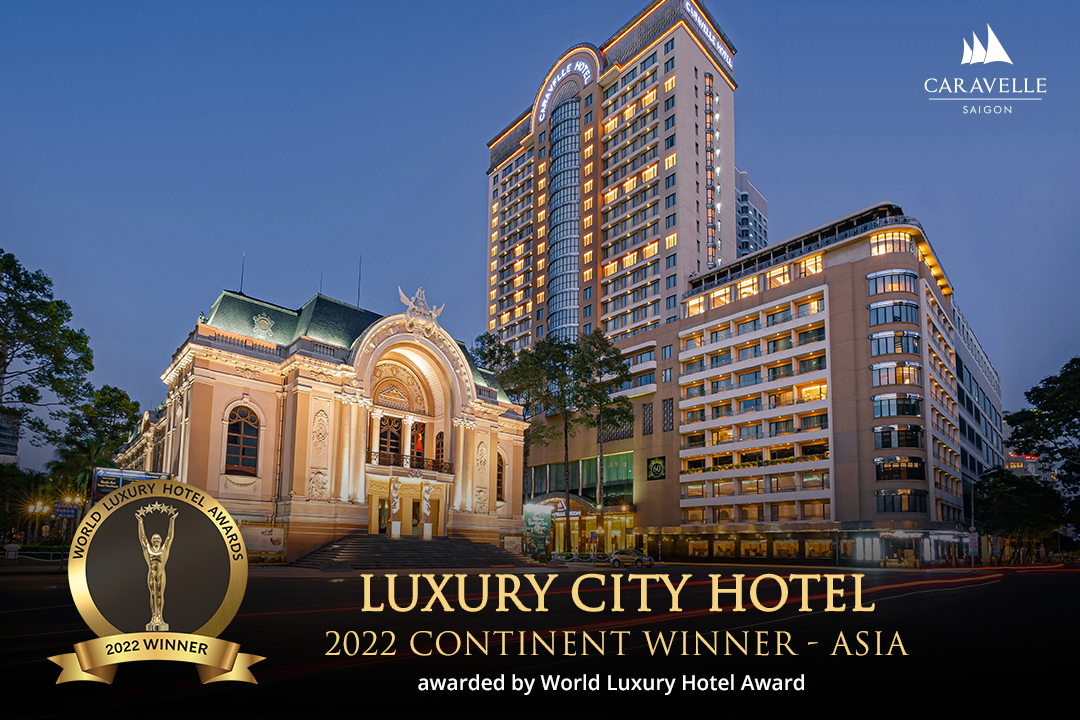 Caravelle Saigon is honored to announce that we have become the global winner of the category Luxury City Hotel in Asia at 2022 World Luxury Hotel Awards!
Known as the "Golden Palm of the Hospitality & Tourism Industry" the World Luxury Hotel Awards is a prestigious international award with more than 16 years of development to honor Hotels & Resorts with outstanding achievements in the Hospitality & Tourism Industry.
Thanks to the wonderful support of valued guests, Caravelle Saigon is officially a Luxury City Hotel – Continent Winner – Asia by the 2022 World Luxury Hotel Awards.
Built-in 1959, Caravelle Saigon has always been such an iconic hotel in the Heart of Saigon. The rooms and suites are light-filled and tranquil, with a perfect view over the Opera House. Almost every detail in the hotel is taken care in a sophisticated way that makes our guests enjoy the best of their stay. At Caravelle Saigon, every guest is warmly welcomed to enjoy the best of our delectable cuisine, from an elegant High tea or a sumptuous seafood buffet to a romantic fine dining experience and a chilling night on top of Saigon…
Amidst our joy, Caravelle Saigon cannot forget that these rewards are all thanks to our valued guests, who remind us to continue bettering ourselves even more! We look forward to welcoming you to our hotel, with an even greater level of luxury experience.

For more information, please contact:
Ms. Khanh Tam
Marketing & Communication Manager
Email: tam.le@caravellehotel.com
Caravelle Saigon
Address: 19-23 Lam Son Square, District 1, Ho Chi Minh City, Vietnam
Website: www.caravellehotel.com
Tel: (+84) 2838 234 999