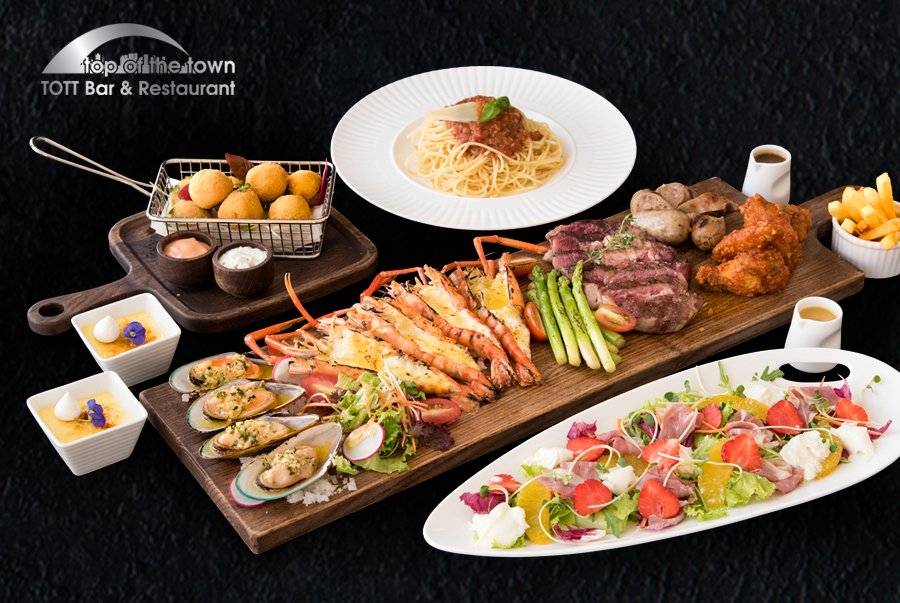 Enjoy a truly memorable evening with a delicious feast of steakhouse favorites featuring premium imported Australian rib eye, chicken wings, and bratwurst sausages alongside fresh prawns and mussels, as well as a collection of favorite side dishes and desserts. A perfect choice for sharing with family and friends whilst overlooking the spectacular panorama of the rising Saigon skyline.
Set Dinner for two persons from 1,698,000VNĐ++/set includes two servings of soft drink or still water
Set dinner for four persons from 3,086,000VNĐ++/set includes four servings of soft drink or still water
For reservations, please call 093 887 8218
Available from: 1st June – 30th June
Time: 6:00pm-10:00pm
Follow us on FB:

https://www.facebook.com/TopoftheTownBarandRestaurant/
______________________________________
Tận hưởng một bữa tối đáng nhớ với bữa tiệc đầy hấp dẫn đến từ sự kết hợp độc đáo của các món: bít tết rib eye bò Úc hảo hạng, cánh gà và xúc xích Bratwurst với tôm và vẹm tươi, cùng các món ăn kèm và món tráng miệng đặc sắc. Một sự lựa chọn hoàn hảo để chia sẻ và bắt trọn những khoảnh khắc tuyệt vời với khung cảnh ngoạn mục của đường chân trời Sài Gòn cùng gia đình và bạn bè tại Top of The Town.
Set dinner dành cho 2 người từ 1,698,000VNĐ++/set, bao gồm 2 ly nước ngọt
Set dinner dành cho 4 người từ 3,086,000VNĐ++/set, bao gồm 4 ly nước ngọt
Để đặt bàn vui lòng gọi: 093 887 8218
Chương trình diễn ra từ ngày 1/6 đến 30/6
Thời gian: 18:00 – 22:00
Theo dõi chúng tôi trên Facebook: https://www.facebook.com/TopoftheTownBarandRestaurant/