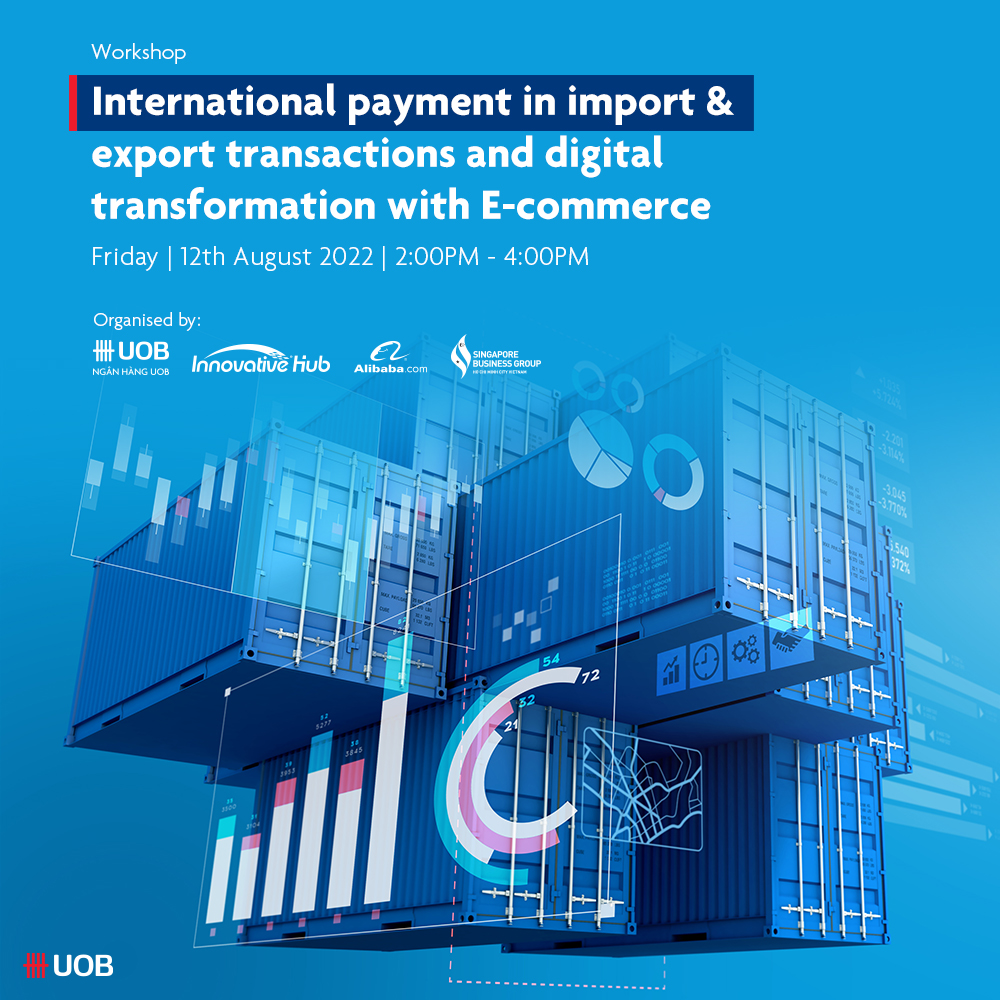 [Vietnamese below]
Event: International payment in import & export transactions and digital transformation with E-commerce
In order to support Import – Export Business in Vietnam to overcome difficulties in international payments and digital transformation to do business globally, UOB Vietnam in collaboration with Innovative Hub & global service partner of Alibaba.com organized a workshop about International payment in import & export transactions and digital transformation with E-commerce.
In particular, the event in August shares useful information:
Learn more about current international payment methods
Identify and manage risks in international payments
Preferential loan package for business
Share case study about international export from Alibaba.com
Speakers:
Ms. Nguyen Lan Phuong – Product Manager, Business Banking, UOB VIetnam
Ms. Phung Thi Thanh Thuy – Head of E-commerce Consulting Department, Innovative Hub Co., Ltd
Ms. Le Tu Uyen – Founder of The Import & Export Natural Love LTD.
Date: Friday, 12 August 2022
Time: 2:00 PM – 4:00PM (GMT+7)
Venue: Alibaba Office, 23 Floor, Saigon Centre, 67 Le Loi Str., Ben Nghe ward, Dist.1, HCMC
Language: Vietnamese
—————————
Sự kiện: Thanh toán quốc tế trong giao dịch XNK & giải pháp chuyển đổi số TMDT
Nhằm hỗ trợ các Doanh nghiệp Xuất Nhập Khẩu tại Việt Nam tháo gỡ các khó khăn trong thanh toán Quốc tế và chuyển đổi số để kinh doanh Toàn cầu, Ngân hàng UOB Việt Nam phối hợp cùng Innovative Hub & Đại lý dịch vụ toàn cầu của Alibaba.com tổ chức buổi hội nghị với chủ đề: Thanh toán quốc tế trong giao dịch Xuất nhập khẩu & Giải pháp chuyển đổi số kinh doanh toàn cầu bằng Thương mại điện tử.
Đặc biệt, sự kiện trong tháng 8 sẽ giúp Quý khách:
Hiểu rõ hơn về các Phương thức thanh toán quốc tế hiện hành
Nhận diện và quản lý được những rủi ro trong thanh toán quốc tế
Ưu đãi vay vốn dành cho Doanh nghiệp
Chia sẻ kinh nghiệm xuất khẩu quốc tế thành công thông qua Alibaba.com
Diễn giả:
Bà Nguyễn Lan Phương – Giám đốc sản phẩm khối doanh nghiệp vừa và nhỏ, Ngân hàng UOB Việt Nam
Bà Phùng Thị Thanh Thủy – Trưởng phòng Tư vấn thương mại điện tử, Innovative Hub.
Bà Lê Tú Uyên – Giám đốc Công ty Xuất nhập khẩu đồ mỹ nghệ Love Natural
Thứ sáu, ngày 12/8/2022
Thời gian: 14h00 – 16h00
Địa điểm: Văn phòng Alibaba,Tầng 23, Tòa nhà Saigon Centre, Số 67 đường Lê Lợi, Phường Bến Nghé, Quận 1, TP.HCM
Ngôn ngữ: Tiếng việt