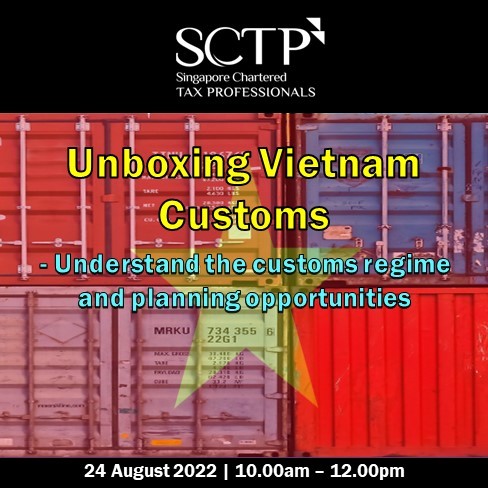 [Webinar] SCTP: Unboxing Vietnam Customs
Programme Synopsis
According to the World Bank, Vietnam's GDP growth is expected to rise to 5.5% from 2.6% in the year just ended. It is certainly on its way to retaining its pole position as ASEAN's fastest-growing economy. Layer this on top of ongoing shipping and logistics woes and one can only imagine the challenges but more importantly, the opportunities there are to seize and corner the market!
Join in this upcoming webinar facilitated by the Ernst & Young team from Vietnam as Mr. Thuan Cong Phan, Tax Director and Accredited Tax Advisor (Income Tax) Mr. Wesley Chua, Tax Manager talks about the customs regime and planning opportunities in Vietnam!
Join the Q&A session at the end to take advantage of this great opportunity to get some professional insights, whether you (or your client) already have a presence in Vietnam or thinking of expanding into Vietnam.
Programme Outline
Look at Vietnam's post-Covid macro-environment & key figures
Understand the customs duty incentives in Vietnam:- Duty exemption for tolling & contract manufacturing- Export Processing Enterprise status- Importation of machines and equipment for incentive projects
Know the customs audit environment:- Peer into common customs audit issues during and post customs clearance- Comprehend the legal framework handling customs audit
Recognize the considerations regarding setting up a Regional Delivery Centre in Vietnam
Grasp Vietnam Certificate of Origin procedures and the labeling for exported goods
Be aware of the customs audit impact on the domestic VAT position
Event Details:
Date: Wednesday, 24th August 2022
Time: 9:00 – 11:00 AM in Vietnam time (10:00 AM – Noon Singapore time)
Venue: Online (The Zoom link will be sent to you by SCTP nearer the date)
Admission Fee: Complimentary (SBG members can select 'Clients of EY Vietnam' when signing up on the SCTP registration page)
Please contact Mr. Wesley Chua at Wesley.Chua1@vn.ey.com if you have any questions.