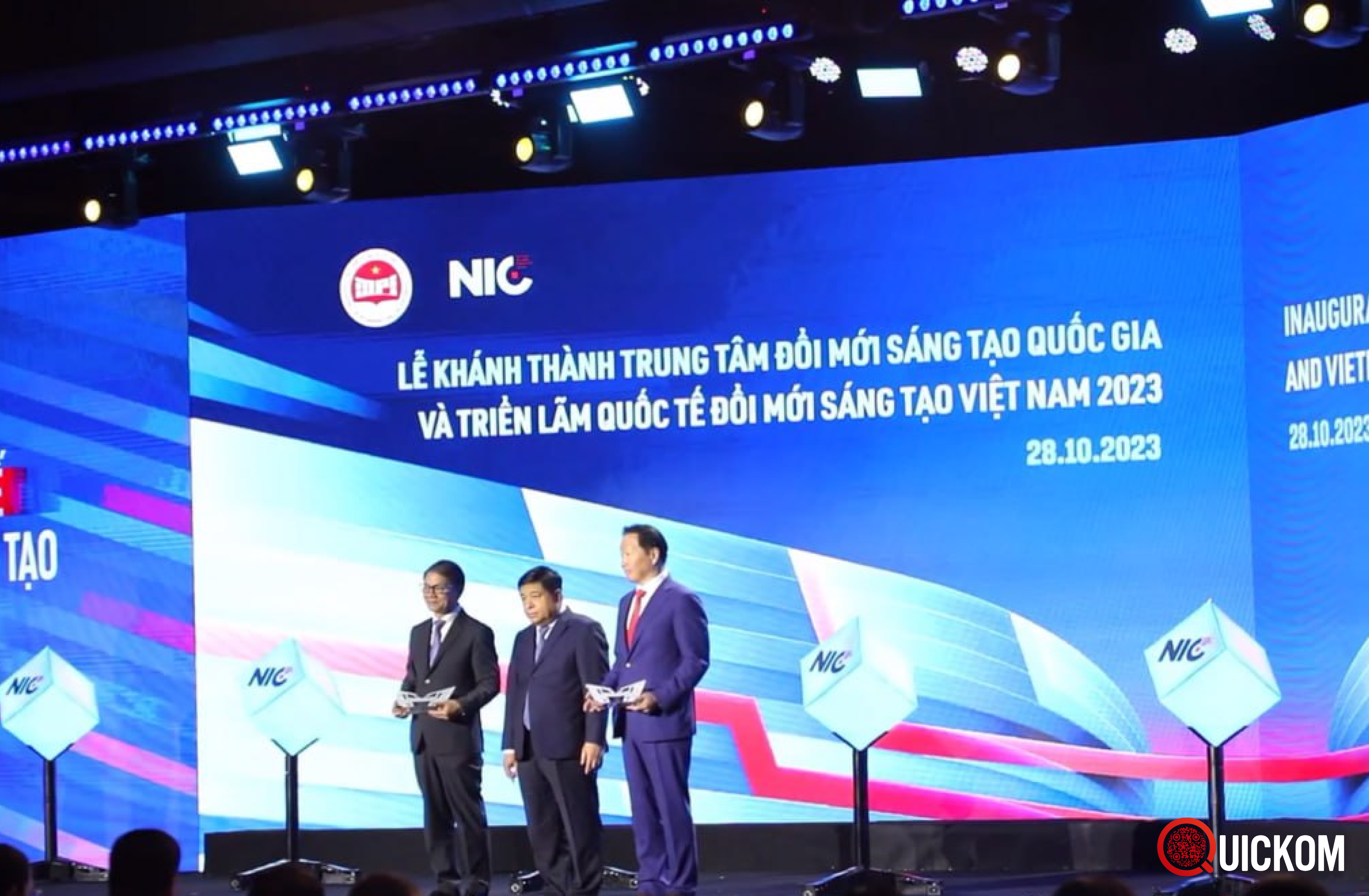 Quickom collaborates and live streams the VIIE 2023 event(English version)
From October 28th to November 1st, the International Exhibition on Innovation and Creativity of Vietnam 2023 (VIIE 2023) took place at NIC Hanoi in Hoa Lac with a significant scale. This year's exhibition carried the theme "Convergence – Creativity – Spreading," signifying the convergence of various stakeholders, resources, innovative ideas, collaboration, and the creation of new technologies, solutions, products, breakthroughs, and high-value outcomes through innovation and creativity.
Quickom played a pivotal role as the online event broadcasting platform for VIIE 2023, ensuring the event could reach a global audience. Additionally, Quickom assisted in conveying the event's important messages and content to people worldwide. Moreover, Quickom served as the ticket distribution provider, helping manage and optimize ticket reservations and audience participation.
With the message "The Live Platform For Content Worth Sharing," Quickom is committed to delivering meaningful and memorable events to the audience. Recognizing that every event is an opportunity for connection, learning, and the exchange of valuable ideas, Quickom strives to create meaningful events by enhancing the audience's participation experience. Quickom believes that the events it supports are not just a place for audience participation but also a platform for them to deeply comprehend the ideas and messages being conveyed.
——————————
(Vietnamese version)
Từ 28/10 – 1/11 Triển lãm quốc tế Đổi mới sáng tạo Việt Nam 2023 (VIIE 2023) đã diễn ra tại NIC cơ sở Hòa Lạc với quy mô lớn. Triển lãm năm nay có chủ đề là "Hội tụ – Sáng tạo – Lan tỏa"; mang ý nghĩa hội tụ các chủ thể, các nguồn lực, các ý tưởng đổi mới sáng tạo; hợp tác và sáng tạo ra các công nghệ, giải pháp, giá trị, lợi ích từ đổi mới sáng tạo tới người dân, doanh nghiệp và quốc gia.
Quickom với vai trò là nền tảng phát sóng trực tuyến sự kiện Đổi mới sáng tạo Việt Nam 2023 (VIIE 2023), đảm bảo rằng sự kiện có thể tiếp cận một lượng lớn khán giả từ khắp nơi trên thế giới. Đồng thời, Quickom hỗ trợ truyền tải thông điệp và nội dung quan trọng của sự kiện đến mọi người. Cùng với đó, Quickom là đơn vị phân phối vé, giúp quản lý, tối ưu hoá việc đặt vé và tham gia của khán giả.
Với thông điệp "Nền tảng cho nội dung đáng chia sẻ," Quickom cam kết mang đến cho khán giả những sự kiện ý nghĩa và đáng nhớ. Hiểu rằng mỗi sự kiện là cơ hội kết nối, học hỏi, và trao đổi ý tưởng giá trị, vì vậy Quickom mang đến sự kiện ý nghĩa bằng cách tối ưu hoá trải nghiệm tham gia, tạo điều kiện thuận lợi để khán giả dễ dàng tham dự bất kỳ sự kiện nào, không kể hình thức hoặc vị trí.
Quickom luôn tin tưởng rằng sự kiện mà chúng tôi hỗ trợ không chỉ là nơi khán giả tham gia mà còn là nơi để họ cảm nhận, thấu hiểu sâu hơn về những ý tưởng và thông điệp mà sự kiện đang truyền tải.