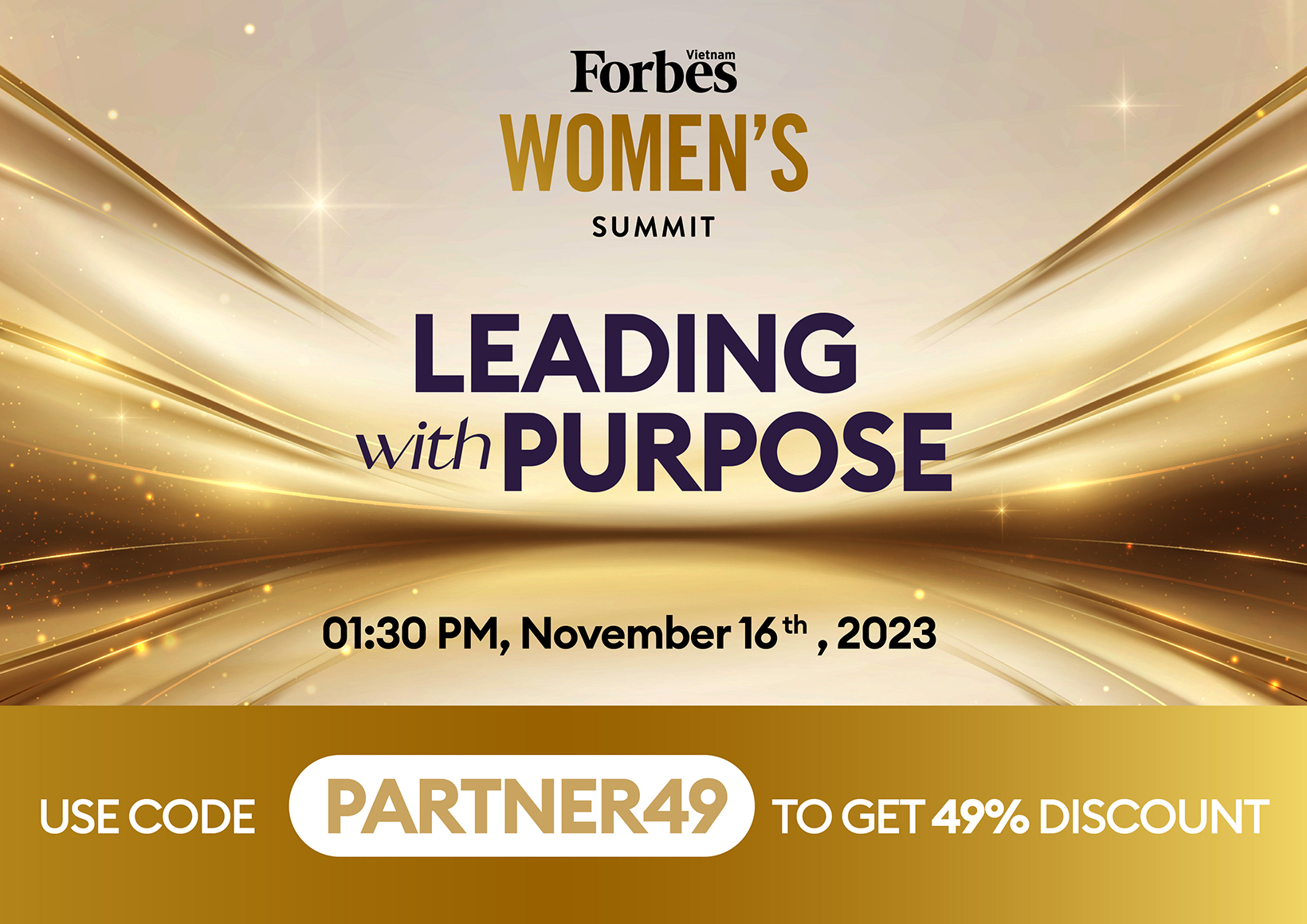 Overview:
Great leaders are visionaries in designing and embracing opportunities to build a better future for everyone. They possess new thinking and mobilize resources to turn ideas into action and impact. They lead change through inspiration and motivation.
Vietnamese society continues to see women leaders who are breaking barriers, outdated rules, and ways of working to reshape organizations and industries. They lead with purpose.
To continue the mission to champion and celebrate women leaders in a fast-changing world, the Women's Summit hosted by ForbesVietnam will return in November 2023 under the theme Leading with Purpose to discuss important issues for the development and progress of women in Vietnam. This not-to-be-missed inspirational event is for women who aspire to excel in their career and personal life.
It will bring together leaders across industries and generations who will share their perspectives when taking charge to make the changes they want to see in the world. What are they thinking and doing to create a present and a future which are more harmonious and happier for themselves, their communities, and beyond?
Join us to meet, listen, and amplify the progressive mindsets of movers and shakers. The forum will feature keynote speeches, on-stage interviews, and panel discussions with impactful leading figures in politics, business, sports, the arts, and social works.
Women's  Summit 2023 is organized to provide:
Narrowing the gender gap: Advocating for activities that foster women's leadership, lead to positive change, and develop the next generation of female leaders.
Beyond ordinary boundaries: A real-life story from an outstanding female leader of a large corporation who led her team to conquer international markets.
Leadership and flexibility: Use your flexibility to seize business opportunities, manage your business, and demonstrate leadership thinking.
Be your own hero: The journey to conquer goals, proactively create opportunities, develop careers, and demonstrate the qualities of the next generation of female leaders.
 Agenda:
13:30 – 14:00   Welcome Guests
14:00 – 14:30   Opening Speech: Nurturing female leadership
14:30 – 14:50   Keynote speech: Narrowing the gender gap: towards the finishing line
14:50 – 15:10   Panel discussion 1: The power of agility: leadership and flexibility
15:10 – 15:25   Tea Break
15:25 – 16:15   Panel discussion 2: Purpose and legacy
16:15 – 16:45   Panel discussion 3: Be your own hero
16:45 – 17:30   Networking
Events detail:
Date: 16.11.2023
Time: 13:30 – 17:30
Location: GEM Center 8 Nguyen Binh Khiem, Da Kao, District 1, Ho Chi Minh City
SCCV Members: Use code PARTNER49 for a 49% discount (apply for the standard ticket)
Please click here for more information of the event, speakers and agenda as well as Group Tickets.