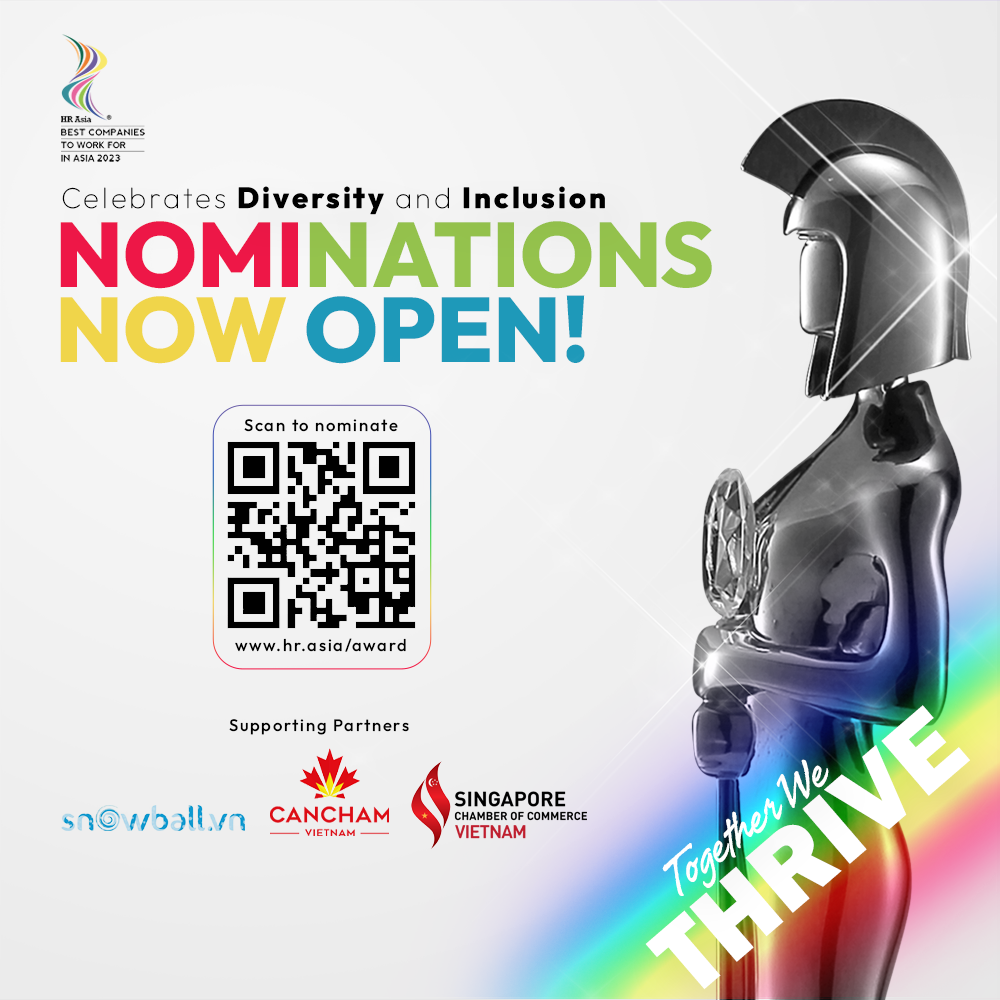 I. About the HR Asia – Best Companies to Work for in Asia Awards (HRAA)
HR Asia – Best Companies to Work for in Asia is organized by HR Asia Magazine – Asia's most authoritative publication for senior HR professionals with more than 22,000 subscriptions per year to recognize and honor businesses that have the best working environment in Asia.
Website: https://awards.hrasiamedia.com/
The awards cover 16 markets across Asia with more than 400,000 participants annually surveyed to measure the level of Employee Engagement. 2023 marks the sixth year that the Award is held in Vietnam.
The leading corporations that have participated and won this award named Microsoft, Unilever, HEINEKEN, Pfizer, Shell, HPE, Cargill, Prudential, Samsung, etc.
You can refer the 2022 winners' list here: https://hr.asia/awards/vietnam-2022/
Highlight video of HRAA 2022: https://www.youtube.com/watch?v=g0xodsi5q0o
II. HRAA Category Awards
In case your company wins the HR Asia Best Companies to Work for in Asia 2023, you will get the opportunity to be exclusively given the below special categories:
HR Asia – Diversity, Equity, and Inclusion (DEI) Awards: recognizes and celebrates the best companies to work for in Asia who have successfully adopted DEI policies and set exemplary examples for others to follow.
HR Asia – Digital Transformation Awards: recognizes the best companies to work for in Asia that have shifted the traditional employee experience interaction to a highly interactive and personalised digital platform that improves workplace culture and engagement.
HR Asia – Most Caring Company Awards: celebrates the best companies to work for in Asia for implementing practices and policies that prioritise the wellbeing of employees and promotes great workplace culture and environment above all else.
III. Timeline and nomination process
1. Submit the Nomination form: Kindly fill in the Nomination form and send it back to us in April.
2. Pay the nomination fee: Kindly transfer the HRAA 2023 nomination fee of 27.369.100 VND (including VAT 10%) to the below account within 7 (seven) days after sending the Nomination form.
Account name: Cong ty TNHH Tu Van Snowball
Account number: 191 30331835 015
Bank name: TECHCOMBANK – Gia Dinh Branch
Transfer note: "[Company Name] thanh toan phi tham du HRAA 2023"
=> After receiving the payment, we will issue the valid VAT invoice.
3. TEAM online survey for your employees: The online survey will open from January to April 2023. We will guide you in details after you finish the registration process.
4. Online interview between the representative of HR Asia and your company: Tentatively in May 2023.
5. Result announcement: Tentatively in June 2023.
6. Gala Ceremony: Tentatively in August 2023 in HCMC.
IV. Evaluation process
– The Online Survey: Total Engagement Assessment Model (TEAM)
Consistent across Asia, estimated 400,000 survey respondents annually.
Uniquely designed by HR Asia academic team.
30-50 full-time employees who have worked more than 06 months are required on average.
Obtain a better understanding of your workforce: Core, Self and Group.
The selected employees need to answer a total 44 questions in the survey using a 5-point scoring scale.
There are 3 open-ended questions which are optional.
– The Online Interview:
Your company's representative and HR Asia's representative will arrange an interview. The main purpose of the interview is that HR Asia will present the employee survey, point out the good points that the company did, where it could have done even better. Next, HR Asia will ask some more questions to verify the results of the employee survey, and know more about the company's sustainable HR strategies and practices, etc.
– External Research from HR Asia:
HR Asia will carry out an external research about the Employer Brand of all nominees through all information researched on the Internet, social platforms, reference reports of HR Asia's partners and HR experts.
V. Participation Fee:
The compulsory fee to participate in the HRAA 2023 is 27.369.100 VND (including VAT 10%).
Should you have any questions, please do not hesitate to contact 094 13 2221 (Ms. Uyen) and uyen.nguyen@snowball.asia