Will not be one of those 'same same' business gathering occasions you have easily spotted out there, Vietnam HR Awards Gala 2022 is back with 3 new highlights: new topics, the first-time-ever stellar lineup of speakers, and impressive celebrating moments.
Just less than a month, the most awaited business gathering – Vietnam HR Awards Gala 2022 under the theme "Awakening Joy" will take place at GEM Center (HCMC) on November 22, 2022.
After 04 times of organizing and recognizing many disruptive HR strategies, this 5th time, Talentnet Corporation (the organizer) will bring to you 03 special highlights, promising to create a truly joyful business event.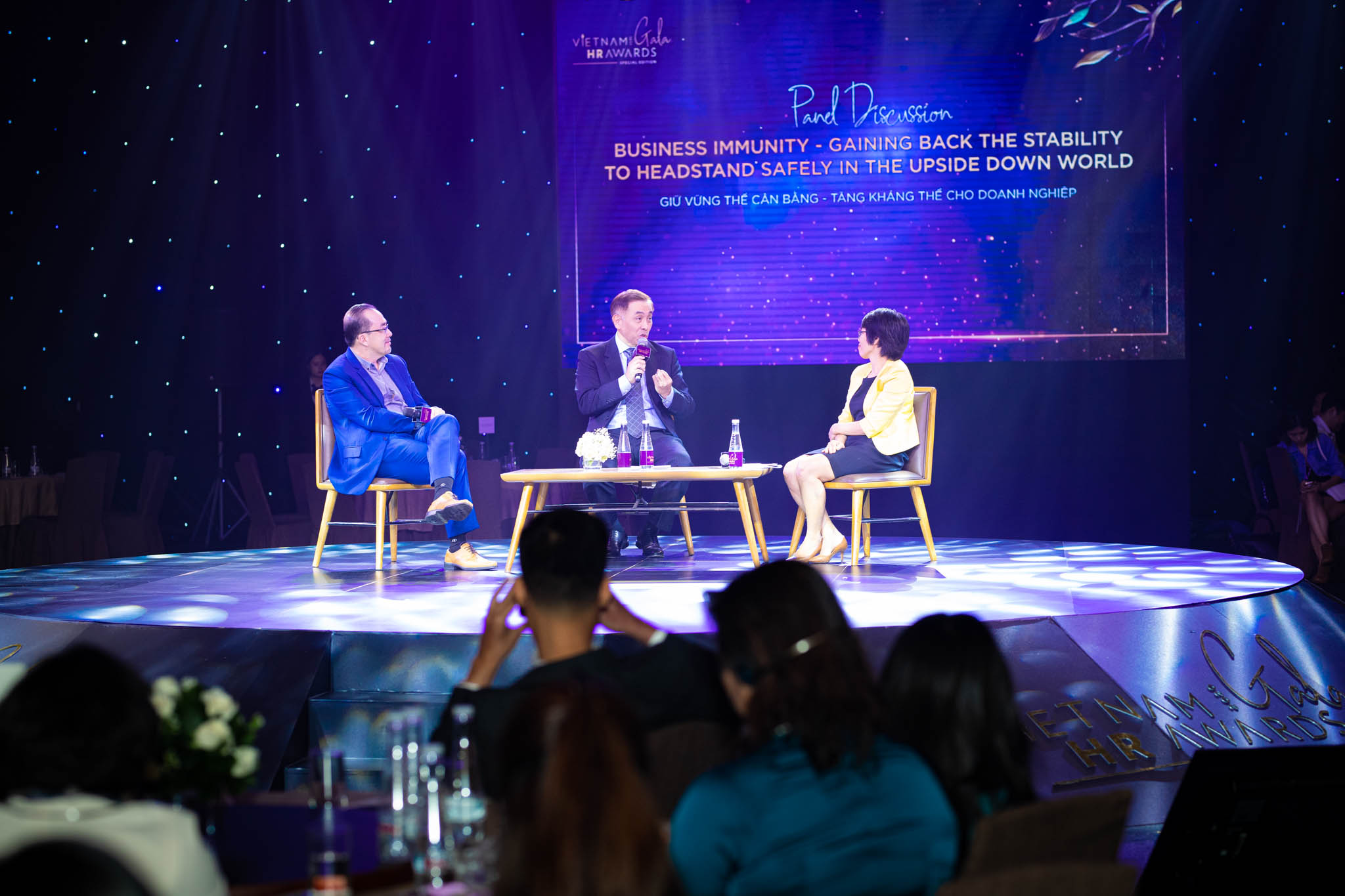 The first joy starts with our new topics. For the first time, Vietnam HR Awards Gala will not just be about honoring the best HR initiatives but also focusing on happiness – as the pillar of the event. The 03 main topics from the seminar will decode all the facets of employees' well-being: the theory of joy, joy from different perspectives, and the real business cases of happiness.
The first keynote "The theory of joy" will deep dive into the definition of joy to a human being as well as the relationship between joy and total well-being.
The second panel "Joy in different perspectives" opens up new perspectives about joy from different touches of life, helping businesses understand what has been making the pure joy of their employees. With our top-notch speakers, you will explore the factors that create happiness and their tips for maintaining a happy state of mind.
Finally, the panel discussion "Healthy boundaries to joyful well-being" will provide you with success stories from experienced experts with practical initiatives and advice to maintain joy as a priority at work, without compromising on business demands.
The second joy is empowered by our stellar lineup of speakers from different walks of life. Not only business leaders or HR experts, for the first time Vietnam HR Awards Gala 2022 will be the convergence of professionals from art, psychology, sociology, etc. With various expertise, our 10+ caliber experts promise to bring deep insights and different perspectives about "happiness", so that businesses can provide their people with more joy – a fundamental key to bolder and stronger business development.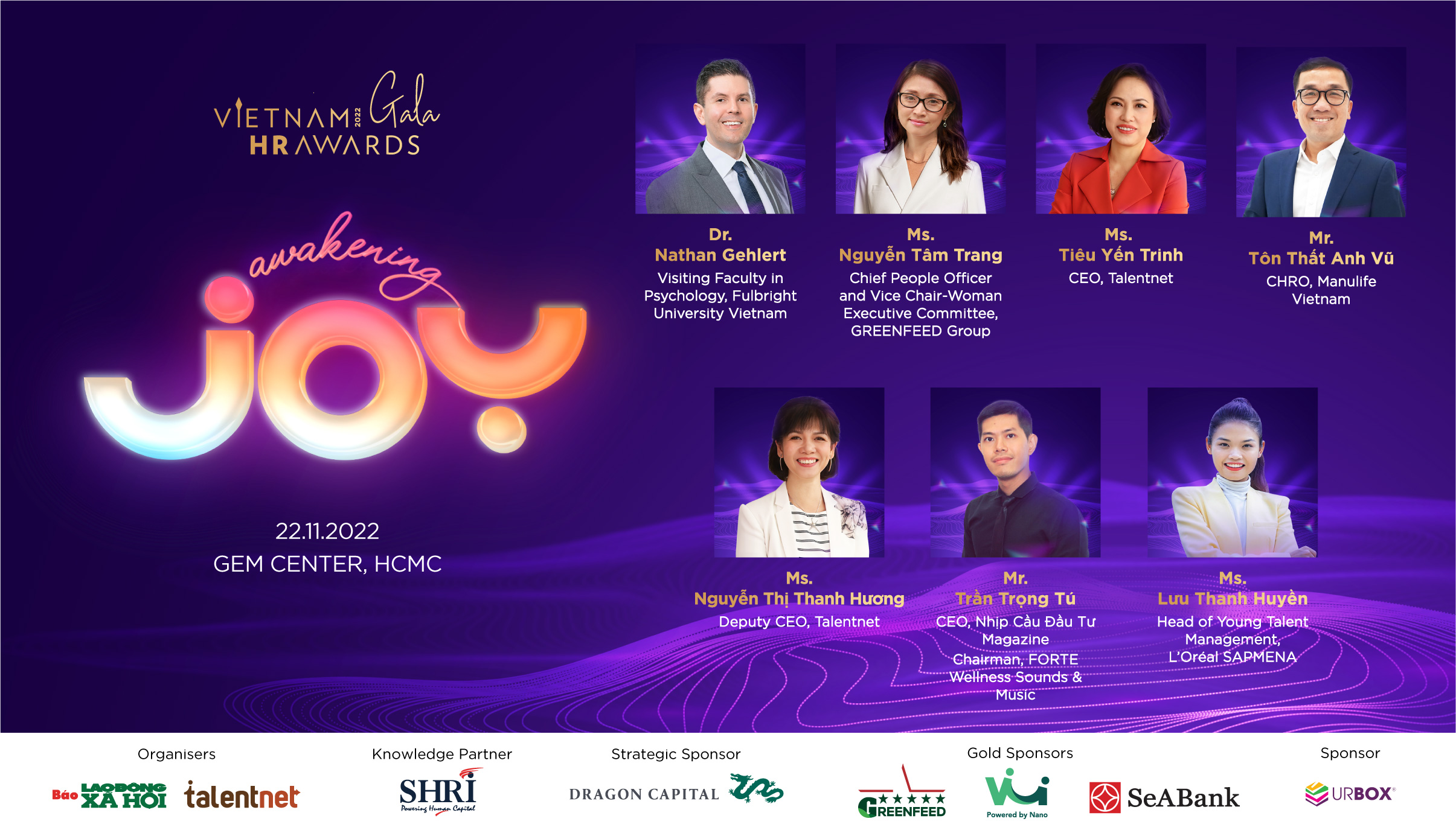 The third joy lies in the impressive and memorable moments celebrating 10+ businesses with the best human capital initiatives in 2022. Vietnam HR Awards 2022 will be a night to honor the contributions of the HR department to the business's total growth and development as well as employees' well-being as whole selves. The event is also an opportunity for more than 500 Vietnam and foreign business leaders as well as HR professionals to connect, share and learn new trends, and success stories thereby leveraging human capital capabilities.
To celebrate the 5th Vietnam HR Awards, this year will reveal interesting facts during the organizing process as well as countless special surprises from the activities and performances at the event.
Hosted by Talentnet with the endorsement of the Newspaper of Labor and Social Affairs– the mouthpiece of the Ministry of Labor – Invalids and Social Affairs (MOLISA), Vietnam HR Awards 2022 is expected to convincingly continue its founding mission in uplifting workforce strategies and values of businesses in Vietnam. Besides, the event is honored to accompany many large enterprises such as Dragon Capital, GREENFEED, Vui App (developed by Nano Technologies), SeABank, UrStaff application developed by UrBox, etc.
Vietnam HR Awards 2022 includes 6 categories:
Excellence for Employees Wellness
Best HR for Sustainability
Excellence in Organizational Capability Improvement
Excellence in Organizational Development & Design
Best Talent Management Strategy (encompassing Strategic Workforce Planning & Total Rewards)
Best HR Leader