[Upcoming Panel Discussion] Is This a Good Time to Invest in F&B in Vietnam?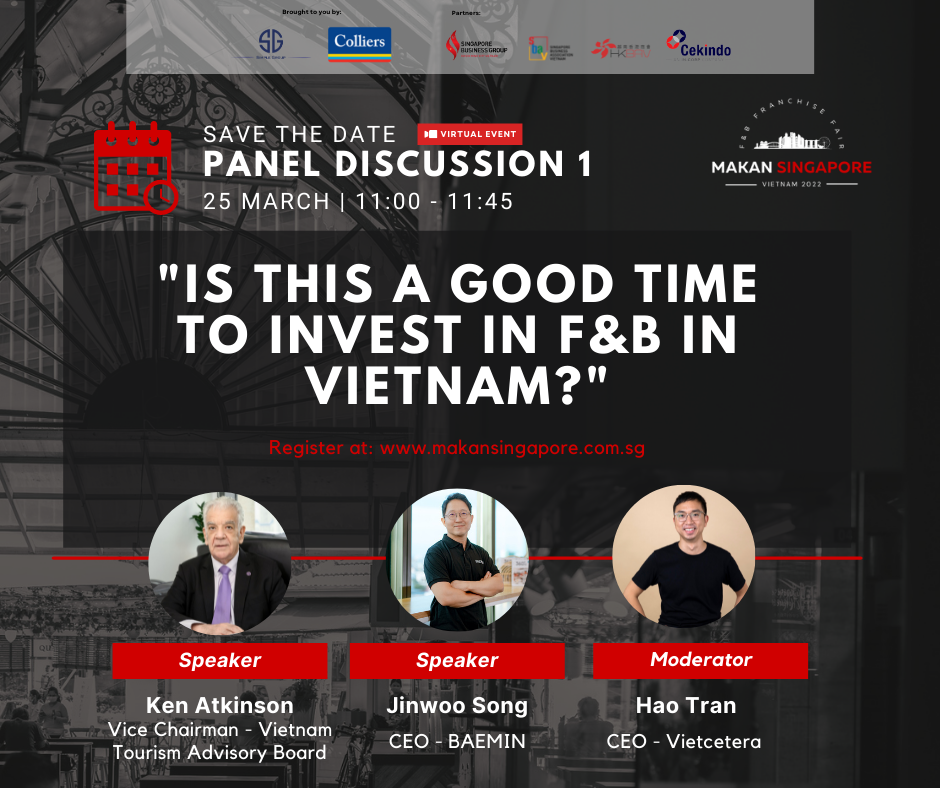 We are just 2 weeks away from MakanSingapore F&B Franchise Fair – Vietnam 2022. As a supporting partner, we would like you to join us live on 25th March 11:00am where our leading experts, Mr. Ken Atkinson (Vice-Chairman, Vietnam Tourism Advisory Board), Mr. Jinwoo Song (CEO, BAEMIN) and Hao Tran (CEO, Vietcetera) will unpack key trends shaping the F&B industry today as well as share their perspectives on the types of opportunities being created. 
You will benefit and learn about:
Key macroeconomic developments over the last 2-3 years that have influenced the investment thesis behind investing in Vietnam F&B

How domestic and international Tourism is expected to shape demand for F&B in Ho Chi Minh City, Hanoi and beyond 

Impact of technology on the industry's growth, and the opportunities/ challenges surrounding new F&B brands entering the market

Outlook for the F&B industry over the next 2-3 years
Please note:
This event will be held on a virtual event platform. The virtual event link will be sent to registrants few days before the event – do keep a lookout on your inbox.
Event Details:
Date & Time: 9:00am – 1:00pm (25th March) & 1:00pm – 5:00pm (26th March)