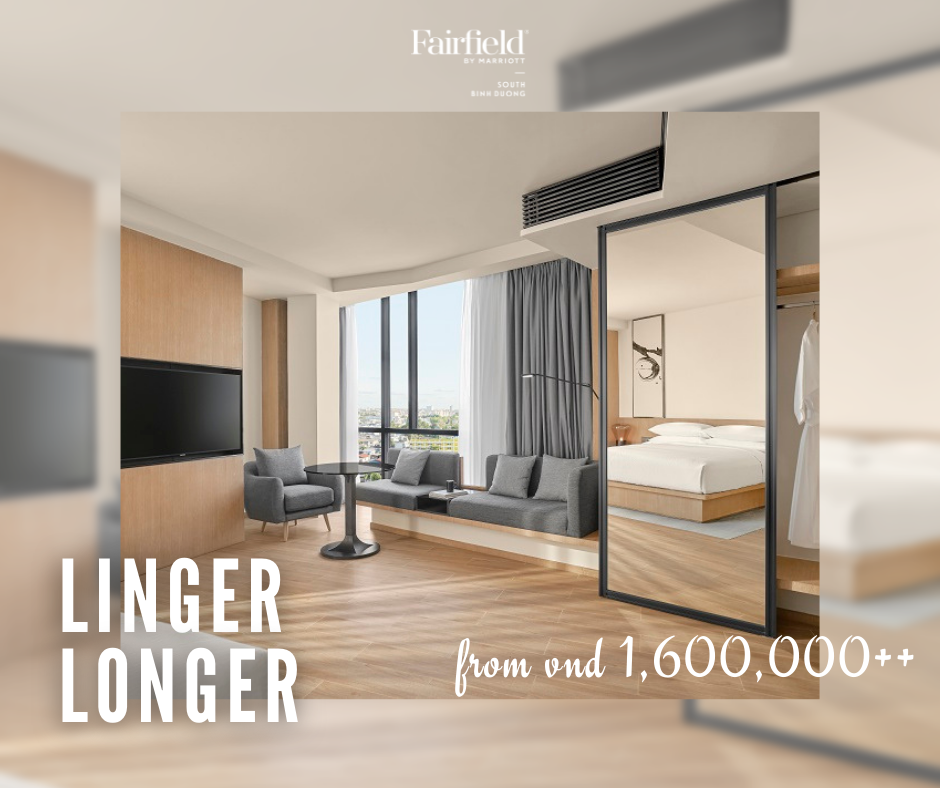 Seven-day challenges with spotless✨𝐋𝐢𝐧𝐠𝐞𝐫 𝐋𝐨𝐧𝐠𝐞𝐫✨at Fairfield!
You are exhausted at work and tend to reward yourself with long-stay vacation, but still do not have any suitable destination? Fairfield by Marriott South Binh Duong really does care about all your concerns. Not only do treating exclusive food & beverage promotion, but we also meticulously care for your daily life such as laundry ensuring that will be right. Linger Longer is actually simple as:
▪️ Daily Breakfast Buffet
▪️ Daily Snack Platter (07 dishes for 07 days) with 01 Cocktail at The Pool Bar
▪️ 03 pieces of laundry per day
▪️ 20% discount for Food and Beverage at restaurant & bar
*T&C: The promotion is applied for a minimum stay of 07 nights
—
Fairfield by Marriott South Binh Duong
𝘞𝘦𝘭𝘤𝘰𝘮𝘦 𝘵𝘰 𝘵𝘩𝘦 𝘣𝘦𝘢𝘶𝘵𝘺 𝘰𝘧 𝘴𝘪𝘮𝘱𝘭𝘪𝘤𝘪𝘵𝘺!
Address: No. 5 Huu Nghi Avenue, Vietnam-Singapore Industrial Park (VSIP), Binh Hoa Ward, Thuan An City, Binh Duong Province
For further information, please contact:
Tel: (+84) 274 3787 300
Email: ffi.sgnfi.reservations@marriott.com
Website: Marriott.com/sgnfi