Within the framework of an official visit to Vietnam, his excellency Heng Swee Keat, Deputy Prime Minister and Coordinating Minister of Economic Policies of the Republic of Singapore, and his delegation made a working visit to VSIP I – Binh Duong Industrial Park on September 14.
The reception was attended by Vo Van Minh, Chairman of Binh Duong People's Committee, Nguyen Van Hung, chairman of the Board of Directors of Becamex IDC Corporation and co-chairman of VSIP Group, and Kelvin Teo, CEO of Sembcorp Development and co-chairman of VSIP Group, together with leaders of the departments and agencies of Foreign Affairs, Planning and Investment, Industry and Trade, Natural Resources and Environment, and the Binh Duong Industrial Park Management Board.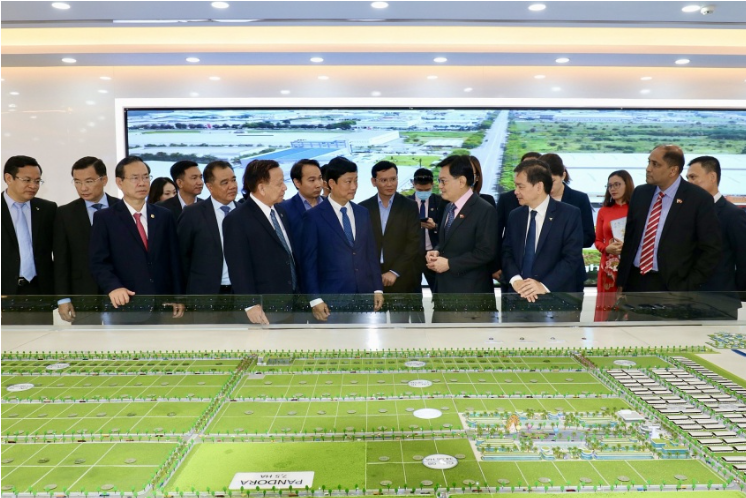 The objective of this visit was to understand more about VSIP's presence and contribution to the industrialization and development of Vietnam and the success of the VSIP model, from the very first VSIP project in Binh Duong province to the latest – VSIP III – which has just been built on the basis of applying smart and sustainable innovations.
After the solemn reception at the office showroom of VSIP I, deputy prime minister Keat and his delegation visited the 500-hectare VSIP I IndustrialPark.
Established in 1996, VSIP I is the first project formed on the basis of friendship and economic cooperation between Vietnam and Singapore.
VSIP III – Binh Duong, with an area of ​​1,000ha, marks a new important milestone for the VSIP joint venture, implementing a strategic transformation to smarter and more sustainable development.
VSIP III is designed to integrate smart technology in all activities in the industrial park, from the use of energy, water, and waste, to traffic management and security.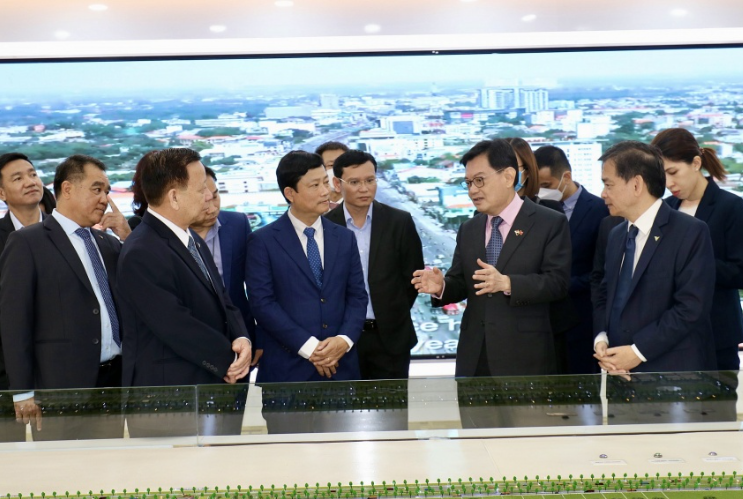 Up to now, there have been many outstanding projects registered to invest in VSIP. Among those are more than $1 billion from LEGO Group, the $100-million project from Pandora Group, and more than 40 domestic and foreign corporations and companies that are interested in the park.
Currently, Singapore is the fourth largest investor in VSIP Binh Duong with 56 projects and total investment capital of $1.1 billion.
This visit by the deputy prime minister and his delegation reaffirms VSIP as a symbol of the effectiveness of Singapore's investment projects in Vietnam and the important contribution of the joint venture in strengthening the strategic partnership between Vietnam and Singapore.
VSIP is a joint venture between Singapore's Sembcorp Group and domestic Becamex IDC Corporation.
Starting in 1996, after 26 years of establishment and development, it has grown to become the VSIP Group investing in 11 projects across the country with a total land area of nearly 10,000ha, attracting $17 billion of investment capital and 860 tenants coming from 30 countries and territories to create jobs for more than 300,000 workers.
Credit: Singapore's Deputy Prime Minister Heng Swee Keat visits VSIP,  https://vir.com.vn/singapores-deputy-prime-minister-heng-swee-keat-visits-vsip-96343.html