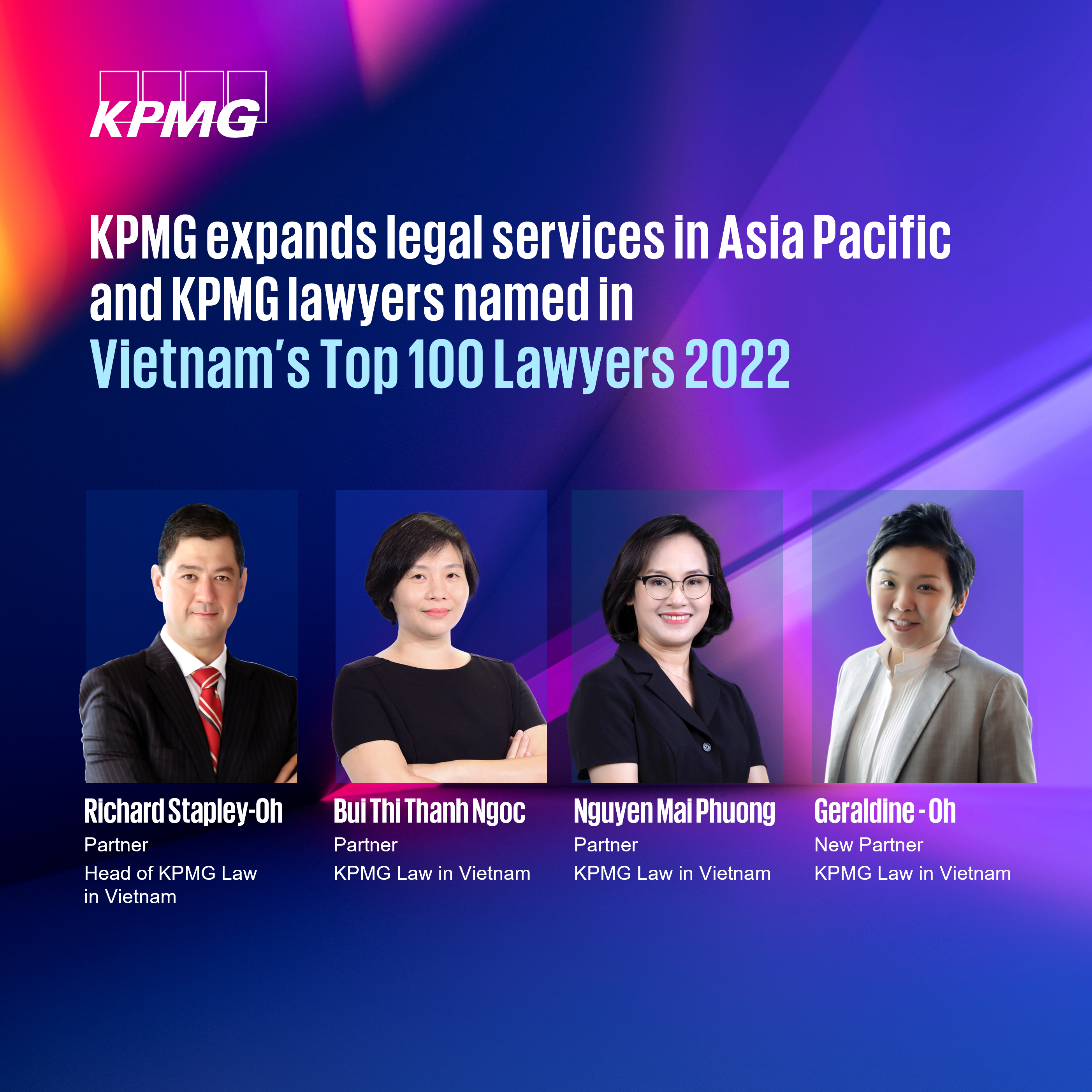 KPMG expands legal services in Asia Pacific and KPMG experts proudly listed in Top 100 Lawyers in Vietnam.
Since December 2022, the addition of ZICO Law into KPMG Law has enabled KPMG to strengthen its legal services throughout Asia Pacific with more than 275 members from ZICO Law joining KPMG Law network. KPMG Law in Vietnam also welcomed 8 members from the ZICO network, bringing the total number of its legal professionals to nearly 100.
Recently, our firm lawyers – Mr. Richard Stapley-Oh, Ms. Nguyen Mai Phuong, and Ms. Bui Thi Thanh Ngoc were honored to be in the top 100 best-practicing lawyers in Vietnam recognized by Asia Business Law Journal. They all are lawyers with many years of experiences representing leading corporations and businesses as well as having made significant contributions to the development of legal activities in Vietnam. This is a testament to the stable growth of KPMG Law in Vietnam throughout Asia.
In February 2023, KPMG Law in Vietnam also welcome new Partner – Geraldine Oh, raising the total number of Law Partners in Vietnam to 5. Before joining us, she was a Partner at ZICO Law practicing in Myanmar and Thailand. She advises on a range of corporate and commercial transactions and M&A matters.
Explore more about KPMG Law in Vietnam: kpmg.com/vn/en/home/services/legal.html
#KPMGLaw #KPMGinVietnam #legal