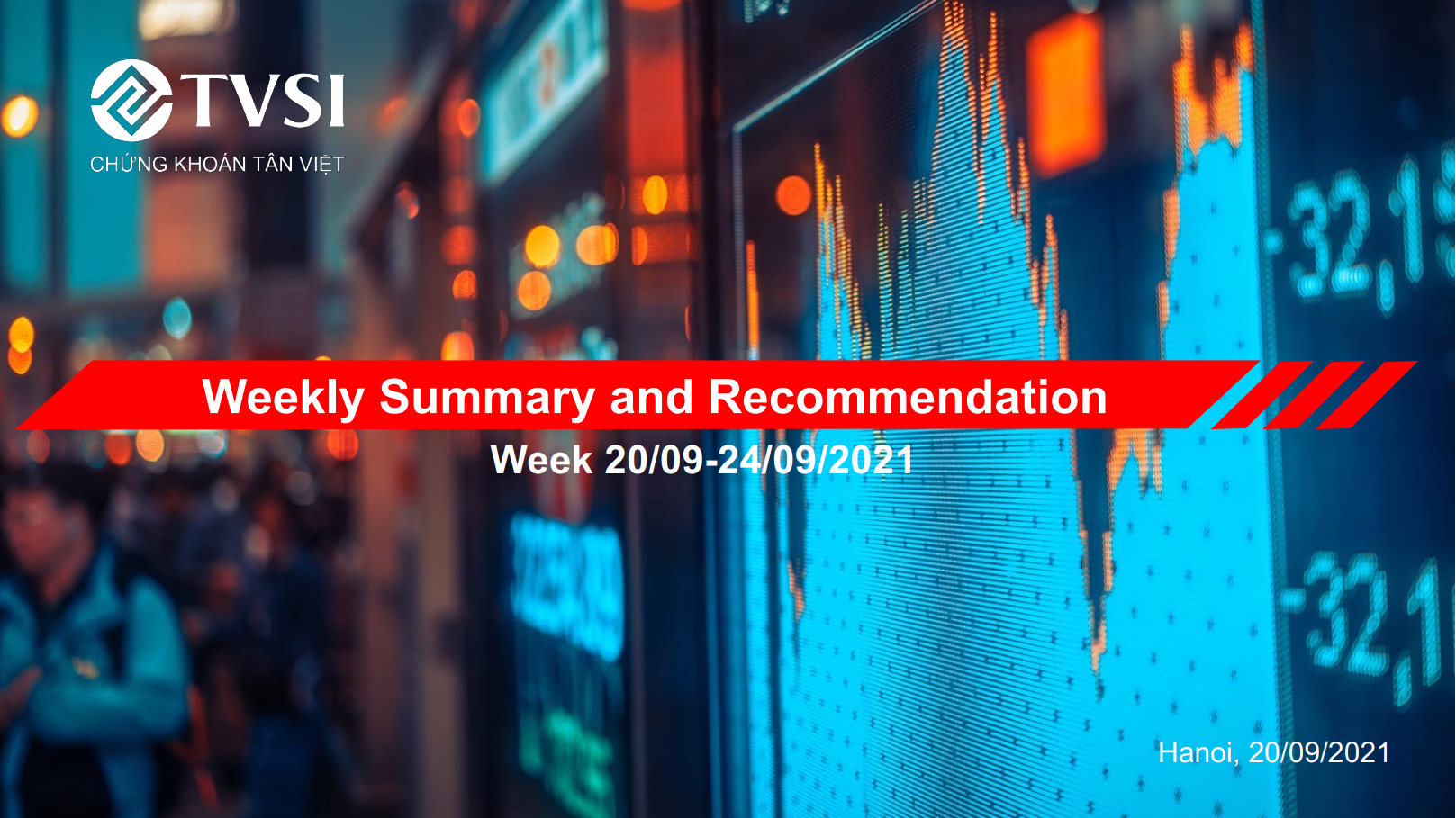 Macro News
China's inflation continued to be kept low, the trade balance had a surplus of 58 bn. USD in T8.2021, exports rose by 5.3% YoY.
Cash inflow trend focuses on Basic Resources and Construction & Materials from the beginning of Q3 until now
The domestic market consumption decreased but the export market continued to grow strongly, 8M exports rose by 119% YoY.
Stock Market Updates
VN-Index increased by 0.8%, P/E recorded at 16.1x
Chemical group continued to increase strongly by more than 6%
Liquidity decreased slightly by 4% in the week of ETF structure
Foreign investors net sold 3.336 billion Vietnam Dong in the week of ETF restructure
Technical Analysis
The market's uptrend is back after many sideways sessions
Industry performance pivot chart – Most industries recovered positively last week
Performance chart of VN30 basket stocks – VIC stocks fell sharply
Businesses struggling with COVID-19 pandemic impacts may be subject to various support in a new rescue package under the form of waiving and reducing tax payments worth VND21.3tr (US$936mn), according to a draft resolution proposed by the Government on supporting the people and enterprises affected by the pandemic. The resolution is scheduled to be approved by the National Assembly (NA) before 01 October 2021. Under the draft resolution, the Government proposed a 30% cut in value-added tax with effective from 01 October 2021 to 31 December 2021, for businesses in the fields of transportation, catering and hospitality services, publishing, movie, sports, and entertainment. The Government also proposed a 30% reduction in corporate income tax for businesses with revenue below VND200bn (US$8.78mn), and the combined revenue in 2021 declines against the previous year. For individual businesses and households, the draft resolution noted they are exempted from paying personal income tax, value-added taxes, and other fees incurred in 3Q21 and 4Q21, estimated at around VND8.8tr (US$386.8mn). The Government also expected to waive penalties for late payment of land rental fees during 2020−2021 for businesses suffering losses in 2020 worth VND5.3tr (US$233mn).
VN-Index forecasts that it will continue to increase to the target range of 1,365 – 1,380 points. The bank is expected to return to lead the market after a sideways period. However, we believe that the market will continue to diversify strongly based on the expectation of 3.21 business results of each industry group. Currently, we highly appreciate Steel, Seaports, Chemicals and export enterprises with factories in the North and Central regions.
Source:  Tan Viet Securities Inc. (TVSI)