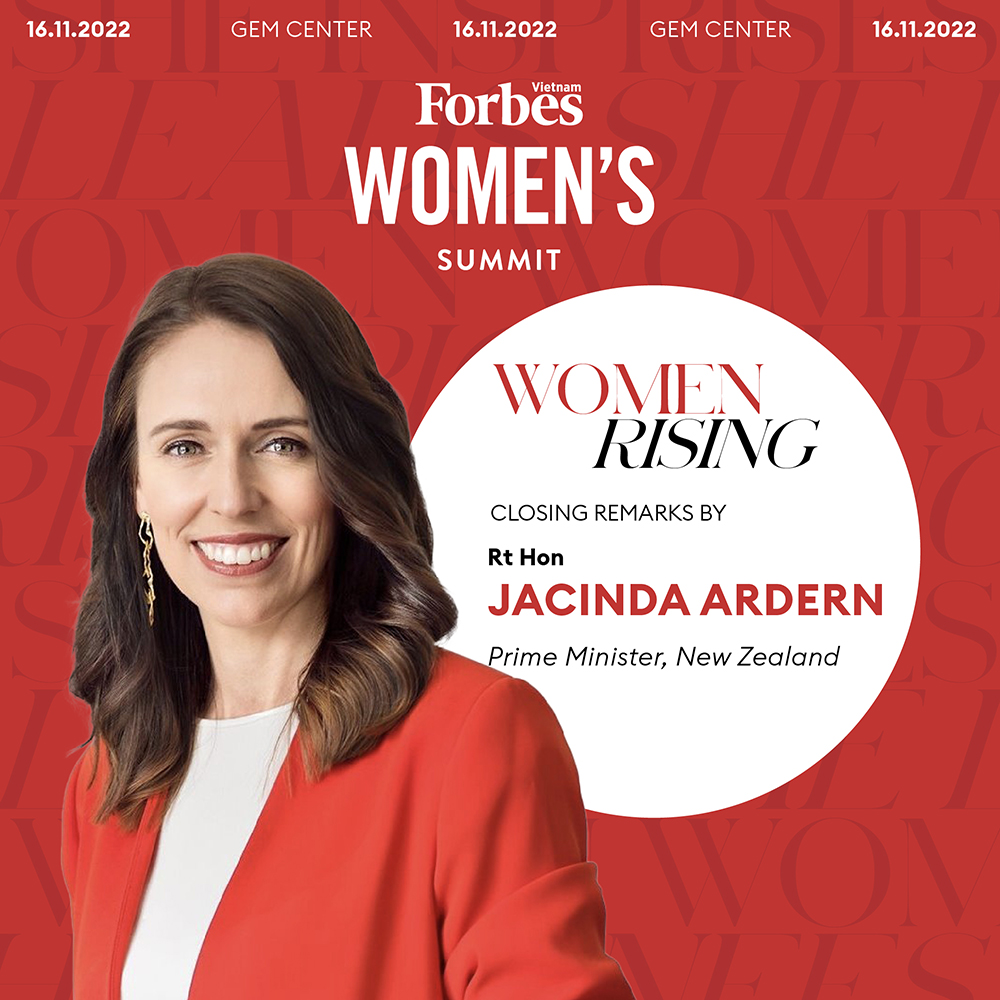 In the worlds of business, politics, and society, examples of groundbreaking women driving innovation, challenging the status and effecting positive change offer hope and inspiration to a whole generation of girls and young women everywhere.But while such cases may be educational and inspiring, they are also few and far between. Many of the world's most inspirational women are as recognizable for their rarity as they are for their achievements.
On November 16th Forbes Vietnam is pleased to present the Forbes Vietnam Women's Summit 2022, under the theme of "Women Rising". For the first time, Forbes Vietnam is very honored to introduce New Zealand Prime Minister Rt Hon Jacinda Ardern as a special speaker. Prime Minister Adern will reflect on her journey as a woman in leadership and consider what the world can do to secure gender-inclusive leadership in the future.
This signature conference will also assemble leading female change-makers and influencers from around the country and the wider region to share their personal stories and insights into how women can be the change they wish to see.
This half-day conference will also honor some of Vietnam's most inspirational women, as recognized in Forbes Vietnam's list of Inspirational Women 2021 and 20 Outstanding Female CEOs 2022.
Women's Summit Agenda:
13:30: Welcome Guests
14:00 – 14:10: Opening Remarks and Performances
14:10 – 14:25: Keynote Speech
14:25 – 15:10: Panel Discussion 1: She Leads: Lean in or lean out?
15:10 – 15:40: Performance and recognizing ceremony of 20 Vietnamese inspirational women 2021 by Forbes Vietnam
15:40 – 16:00: Tea Break
16:00 – 16:45: Panel Discussion 2: She Values: Finding Your North Stars
16:45 – 17:10: Performance and recognizing ceremony of Forbes Vietnam's 20 most outstanding female CEOs 2022
17:10 – 17:30: She Inspires: Closing remarks by New Zealand Prime Minister Rt Hon Jacinda Ardern
17:30: Networking and Closing
Event details:
Date: November, 16th 2022
Time: 1:30 PM – 5:30 PM
Venue: GEM Center, 8 Nguyen Binh Khiem, District 1, HCMC
For more information about the event, please click here
SCCV Members: Use code PARTNERWS30 for a 30% discount (only apply for the original price ticket, should be used before November, 16th 2022)