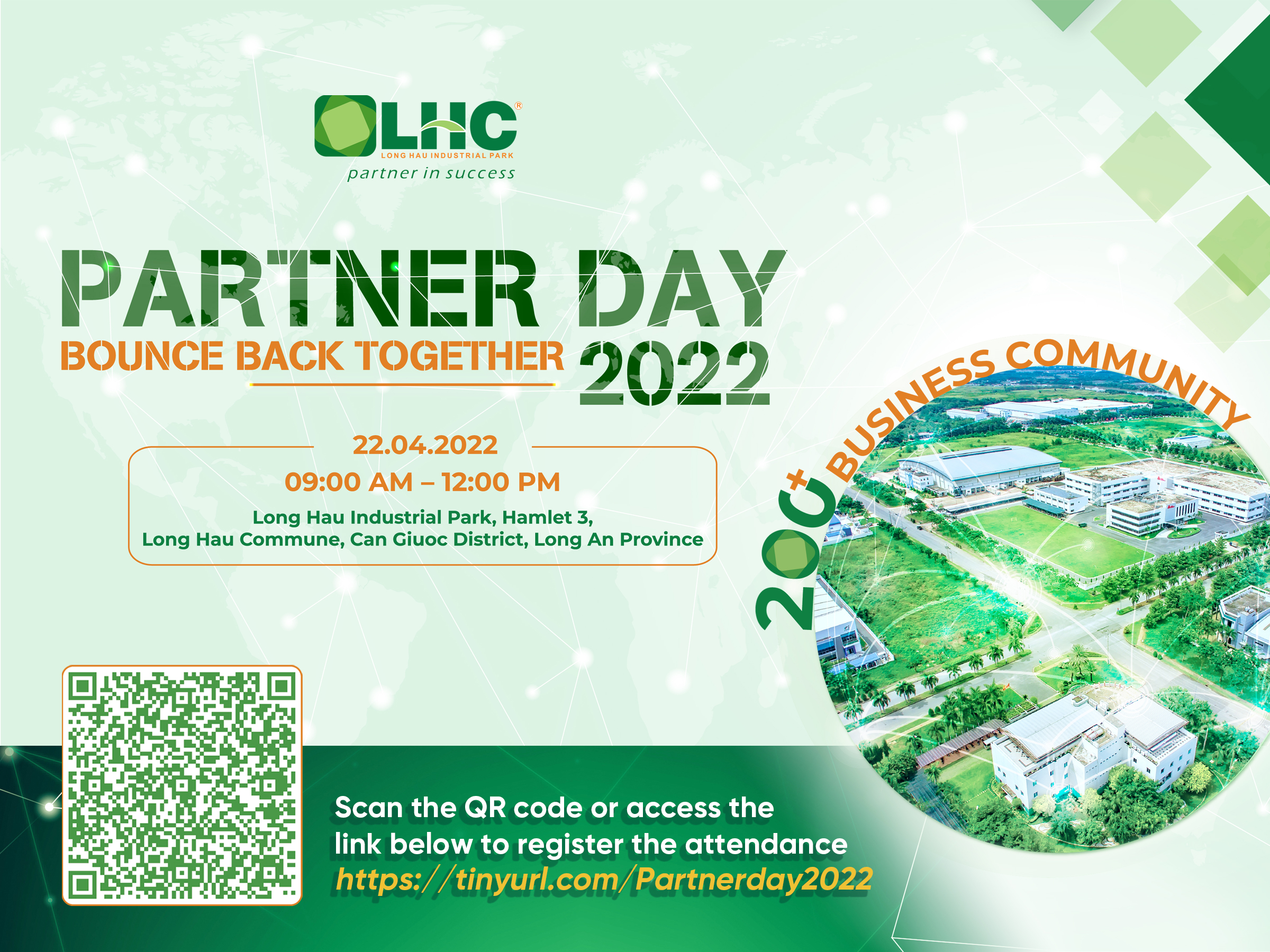 EVENT ANNOUNCEMENT
PARTNER DAY LHC 2022  
On 22/04/2022, Partner Day LHC 2022 will take place at Long Hau Trading Center – Long Hau Industrial Park, expected to attract a variety of Manufacturers and Suppliers.
Supply-Demand connection: Cooperation establishment right at the event
Partner Day 2022 is expected to bring together hundreds of guests who are LHC's partners from chambers of commerce and industry, international economic-trade associations, consulting units, banks, and manufacturing enterprises inside and outside Long Hau Industrial Park, potential investors who are interested in the investment environment in Vietnam.
The event is expected to create many direct effective contacts between Enterprises and many activities to connect supply and demand in various fields such as food, supporting industry, logistics, construction, etc. In direct exchange, Enterprises can become each other's partners if the appropriate criteria are met.
Not only fully updating information on supply needs, at Partner Day LHC 2022, enterprises will also access multi-channel services right at the event such as banking, legal, customs, human resource training, etc., prepare for investment or market expansion in Vietnam. In addition, Enterprises can visit and learn about products of manufacturers inside and outside Long Hau Industrial Park at the exhibition area, display products, update service ecosystem in the area to build future cooperation plans.
Open panel discussion: Valuable perspectives towards the market
In addition to networking activities, Partner Day is managed to have a panel discussion around the following topics: Challenges for Manufacturing Enterprises in the post-COVID-19 period, the trend of increasing the localization rate of FDI enterprises, etc., to exchange, question and answer, share practical experience with experts and representatives of domestic and foreign enterprises, get a multi-dimensional view of the market. Thereby, enterprises will soon grasp information on investment and manufacturing markets in the country and the world, enhance forecasting ability, and proactively develop appropriate strategies for each period.
The event is expected to have the presence of 6 speakers from leading enterprises, international trade associations and consulting organizations:
Alexander Götz – Chairman of GBA, General Director of Fisher Asia
Le Nguyen Duy Oanh, Vice Director of CSID (Center of Supporting Industry in HCMC)
Lim Chor Ghee – General Director of Tricor Vietnam
Lee Si Young – Vice President of Arikel
Shinji Hirai –Representative of Jetro (The Japan External Trade Organization)
Diep Le – Director, Head of Commercial of SLP Vietnam
Understanding the needs of existing enterprises inside and outside Long Hau Industrial Park as well as FDI enterprises about to invest in Vietnam's market, LHC regularly organizes networking events, legal consulting programs, and other supporting services. After two successful periods, Partner Day continues is proved to be a practical activity, becoming a connection center that brings a lot of value to businesses, contributing to the formation of supply chains and effective industry linkages in the region.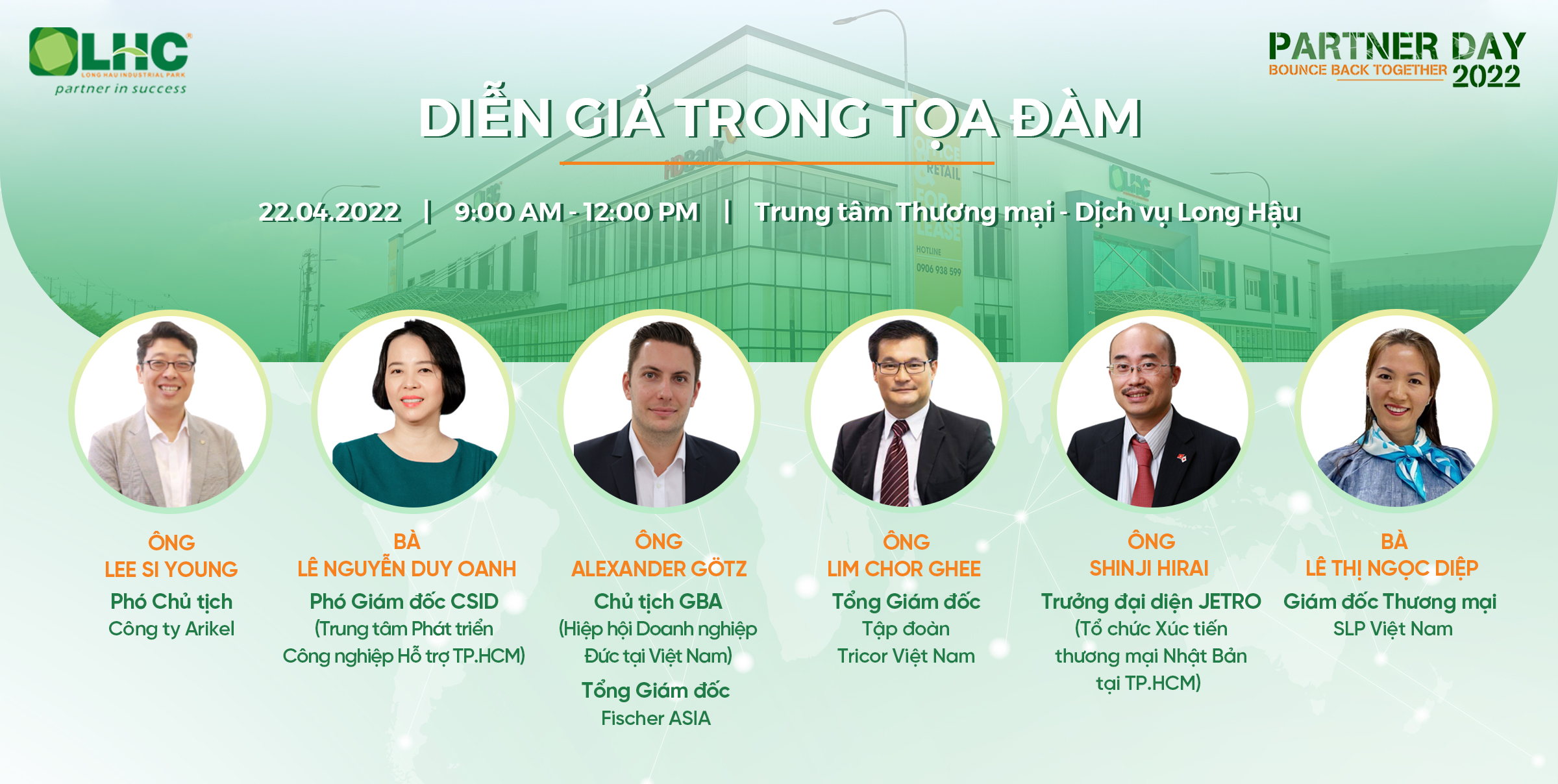 For further information, please contact to:
Ms. Quynh Anh – Marketing Manager
Mobile phone: (+84) 917 484848
Email: anh.ptq@longhau.com.vn
Long Hau Industrial Park
Address: Hamlet 3, Long Hau Commune, Can Giuoc District, Long An Province